14 August 2023 ·
A slow buying process with delays and setbacks of an older home caused Lillie and Dan to consider a new build, knowing the buying process could be much faster.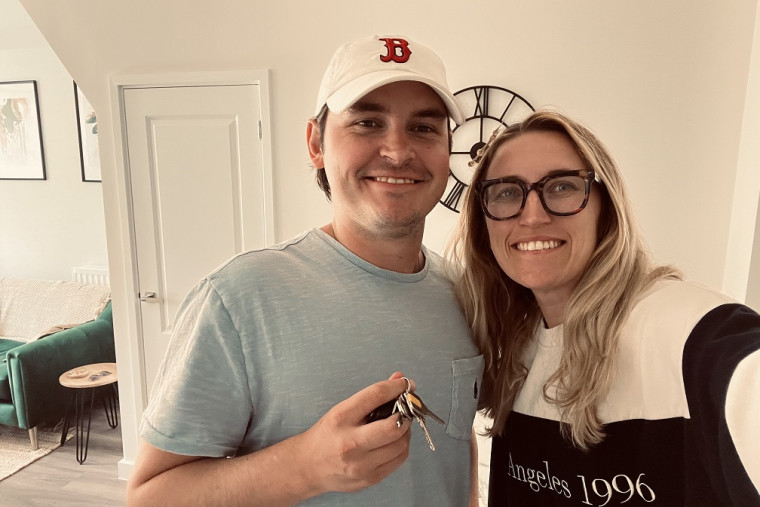 Despite high mortgage rates as they entered the property market, Lillie and Dan were able to escape paying £2,000 a month for a one-bed flat in Greenwich, in exchange for a two-bed house of their own at £1,870 a month.
First-time buyer couple Lillie Grainger, a 29-year-old Social Media Manager, Dan Smart, a 27-year-old Senior Finance Account Executive, bought a two-bedroom, three-bathroom house with private garden and off-street parking at Brentwood Acres in April for £450,000.
Having saved consistently for the past five years, Lillie focused on locking her money into the government-backed Lifetime ISA. "As soon as pay day came around, I would put some money away into a savings account which was hard to access. This was far better than waiting to the end of the month and saving what was left, if anything was!"
"Also, when I received a pay rise, rather than getting used to a higher income and falling victim to lifestyle creep, I increased the amount I saved – something I'd recommend to anyone who can afford to."
After renting a flat in Greenwich together, Lillie and Dan were ready to return to Essex to be closer to family. "We wanted to be close to where I grew up and near enough to both our families. We were also looking for more space. Having lived in a one-bedroom flat in London for just under two years we were ready to make the move, and Brentwood was the perfect option – it gives us a good mix of countryside, shops but also close enough to commute to Canary Wharf for work. Before buying, we moved back in with my parents for a short time, so we could get out of the rental agreement ahead of completing."
Lillie and Dan each set aside £300 every month into savings, while also paying £2,000 collectively in rent. Their mortgage payment at £1,870 means the couple are able to enjoy £730 a month back into their pockets.
Leading busy work and social lives, Lillie and Dan were looking for a property which they could move straight into, which is one of the biggest benefits of a new build. "With us both working in London full time, we felt it would be much easier to move into a property that was ready to go. One of the other perks of a new build is that the place came with brand-new white goods.
"Also, after a period of renting, where you can't make any changes, it's been so nice to be able to put a stamp on our first home together. DIY is neither of our strengths so it's good to be able to focus on the interior to make it homely, without needing to think about a full renovation."
A slow buying process with delays and setbacks of an older home caused the couple to consider a new build, knowing the buying process could be much faster. "Our experience of buying at Brentwood Acres was very quick, we had had an offer accepted on another property which was a full on renovation project, but it was taking a long time to go through. After deciding we were more suited to a new build we looked at Brentwood Acres and were sold from the moment we stepped in. From reserving to completion it took under three weeks which was amazing! It also meant less time living with my parents too which was a plus!!"
"Fairview also made the process extremely simple and efficient, the Sales team kept us informed throughout, and an added touch was receiving Fairview's Essential Starter Pack once we moved in – which was over £200 worth of house hold items and cupboard essentials."
Lillie and Dan have settled into life in Brentwood Acres really well, and are enjoying the space the area offers: "I love the buzz of Brentwood, it's so nice to return back to where I grew up after being in London and Australia for the past five years. After living in London which offers effortless transport links I was worries we'd be reliant on a car, but this hasn't been the case at all. The bus makes it so easy to get to the high street and the station, and it's only an hour to my office in Canary Wharf door-to-door, but on the weekends, we feel so free – there are loads of parks we can relax in too."
Sharing her favourite things about their new home. "We've turned the second bedroom into an office which is lovely as I can look out and people-watch on days I work from home. We also have so much more space to host friends and family, and we've moved in during the perfect time of year, as the open plan kitchen is ideal for summer BBQs."
Asked to give a tip to fellow first-time buyers, Lillie said: "Go with your gut, and make sure you look around the property/local area a few times before jumping in. It's a big decision!"
Watch Lillie & Dan's Story
Watch Lillie & Dan's journey to finding their dream home at Brentwood Acres, and how they swapped renting in London for a well-connected home near the buzz of Brentwood.
Brentwood Acres
Brentwood, Essex
No of bedrooms

3-4

Price

From £550,000

Est. completion date

September - March 2024
Stylish 2, 3 and 4 bedroom houses and 1 & 2 bedroom apartments in Brentwood. With eco-friendly features, excellent transport links, and a beautiful location, this development is perfect for families and young professionals looking for their dream home.