01 September 2023 ·
Having both previously been living with their parents in order to save as much as possible, they were able to get onto the property ladder thanks to their savvy saving and Fairview's Deposit Top Up incentive.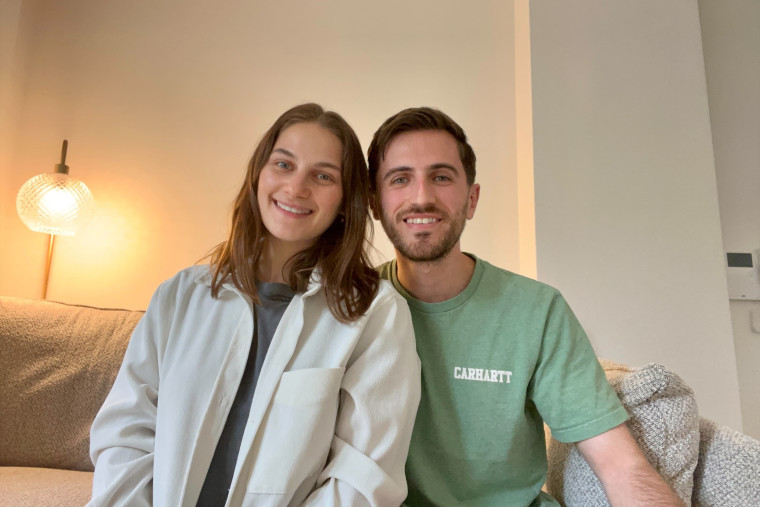 Maya, a 24-year-old Content Creator for Harrods and Charlie, a 27-year-old videographer, are a first-time buyer couple who purchased a two-bedroom, two-bathroom apartment with a private balcony and parking space at Fairview New Homes' Brentwood Acres development, Essex in 2023, for £375,000.
Charlie had been saving to buy his first home for almost eight years, while Maya for three. Having both previously been living with their parents in order to save as much as possible, they were able to get onto the property ladder thanks to their savvy saving and Fairview's Deposit Top Up incentive, of £18,750. Along with their own deposit of £37,500 (10%), it gave them a LTV mortgage of 85%, on a two-year fixed term.
Maya said: "Charlie is great at saving and put a little amount away each month, I struggled a little more as I was earning less… and I also enjoy spending money on things like clothes. However, I managed to save money through a side hustle I ran for a couple of years. By selling my art work, I was able to put the profits of around £7,000 into savings in the space of two years."
Timing was everything for the couple, "Being with Charlie for eight years, it felt like a long-time coming! We both got pay rises at work which improved our mortgage affordability, and meant that it was the perfect time to start our search", Maya added.
While the couple had their hearts set on older properties initially, after visiting a new-build, and seeing the benefits they come with they changed their minds quite quickly. "We fell in love with how 'new' everything was, knowing all the appliances hadn't been used before. It also happened to be that the new-build square-footage was much larger than the older properties we visited which made such a difference. The cherry on the cake was the attractive incentives that usually come with a new-build."
Another benefit the couple recognised in buying a new build was how speedy the whole process could be – with no risk of lengthy chains, dealing with a seller's solicitors, or risk of delayed completion dates. "The whole process took less than eight weeks. We received our Agreement in Principle on 15 March 2023, viewed the property on 25 March, reserved it on 27 March, exchanged on 28 March and moved in on 6 May 2023."
While both are from Essex, they were new to the Brentwood area but Maya and Charlie already feel at home, "We feel quite settled already, but we're looking forward to exploring the area further. We've already enjoyed lots of walks nearby, there seems to be loads of walking trails and forest paths within walking distance of the development. I love that we're slightly out in the countryside but can easily walk to Brentwood High Street, which really has everything you could ever need. We're able to enjoy the buzz of it, without feeling right on top of it – the balance is perfect."
When not out and about, the couple have enjoyed making the apartment their home. "I love how quiet it is here, the development itself, as well as the sound-proofing in the flat. The bedrooms are really large and so our second bedroom is perfect for Charlie and I to work from home without feeling too cramped. I love the large windows as it brings in a lot of natural light."
Offering advice to fellow first-time buyers, Maya's tip is: "Be prepared to make compromises as you will never have the perfect home. Once you move in, it will all feel worth it, and you'll forget about everything else. Also, start saving sooner! There are a lot more expenses than just purchasing the home."
Watch Maya & Charlie's Story
Watch Maya & Charlie's journey to finding their dream home in Brentwood and how they benefitted from our Deposit Top Up incentive to help boost the deposit they already had.
Brentwood Acres
Brentwood, Essex
No of bedrooms

3-4

Price

From £550,000

Est. completion date

September - March 2024
Stylish 2, 3 and 4 bedroom houses and 1 & 2 bedroom apartments in Brentwood. With eco-friendly features, excellent transport links, and a beautiful location, this development is perfect for families and young professionals looking for their dream home.