28 September 2017 ·
Cougars net new kit thanks to housebuilder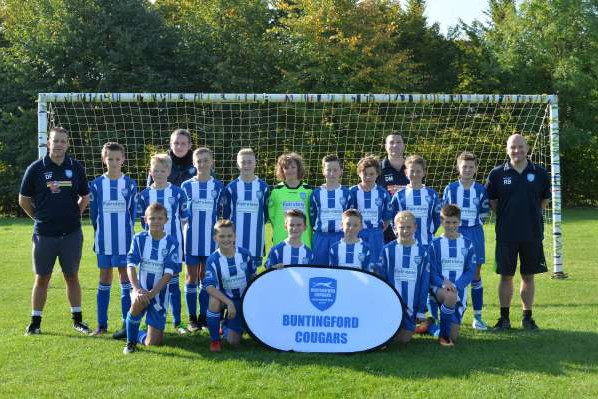 A team of young footballers in Buntingford will be playing their games in a new kit this season, thanks to sponsorship from a developer building homes in the town.
Buntingford Cougars Youth Under 13s kicked off their new season in a brand-new strip which has been sponsored by Fairview New Homes.
The Buntingford Cougars play their home matches at the Buntingford Community Centre, off Luynes Rise, just a half mile from The Village, Fairview's development on the former Sainsbury's depot site.
The Cougars were formed in 1971 and now have teams ranging from under 6s through to under 18s, alongside a Cougars Cubs team for children aged between 3-5 years-old.
Helen Baker, membership officer for Buntingford Cougars Youth FC, said: "Our Under 13s have moved up to play 11-a-side matches this season, so to have a full set of brand new kits for all the players is a big boost.
Helen, whose son, Oliver Baker, captains the team, added: "The new strip looks great, and we'd like to thank the team at Fairview for their support."
Jeremy Gee, Main Board Director for Fairview, said: "We are always pleased to support community groups in the areas where we are building new homes, and the Buntingford Cougars Under 13s look very smart in their new kits.
"We wish them the best of luck for the new season."
To find out more about the Buntingford Cougars, visit www.buntingfordcougars.co.uk