28 September 2017 ·
Development is regenerating former library site in Harrow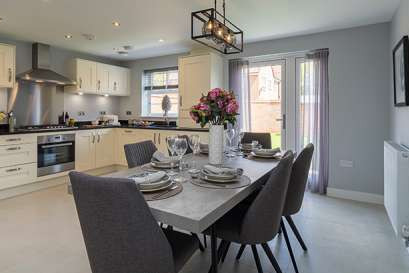 A new collection of 3-storey homes surrounding a green open space have been released for sale at a development in Buntingford, Hertfordshire. Fairview New Homes has just unveiled its Townhouse Collection at The Village, its development in London Road on the southern fringe of the town.
The Townhouse Collection is a selection of just 10 homes which are being built next to a new green open space, with several of the townhouses fronting onto the green. The collection includes two different four-bedroom home designs – the Aster and Larkspur.
Jeremy Gee, Main Board Director for Fairview, said: "Townhouses are always popular with our buyers because of their versatility – the layout offers the flexibility for the owner to change the use of the rooms over time to suit the changing needs of family life. "The layout of the Larkspur will resonate with some buyers who love the family room leading to the garden on the ground floor, and offers the option of having a living room on the ground floor, first floor – or both. "Others may prefer the Aster's layout, with the kitchen and dining room facing onto the garden and a study on the ground floor. "I'd encourage home-hunters to visit us and take a look around our Aster showhome to get a feel for what 3-storey living could be like."
The homes within the Townhouse Collection offer the biggest square footage of any of the homes available at The Village – the Larkspur comprises 1,382 sq ft of floorspace and is priced from £430,000, while the Aster covers 1,689 sq ft and is priced from £489,000. To find out more and to view the new Aster showhome, buyers can visit The Village Marketing Suite, which is open daily from 10am to 5pm.