01 August 2023 ·
In May of this year, Executive Assistant, Eleonora and her partner Stan, a Letting Agent, couldn't see themselves owning their first home for another three years, until they came across Fairview New Homes' game-changing Save to Buy scheme on TikTok.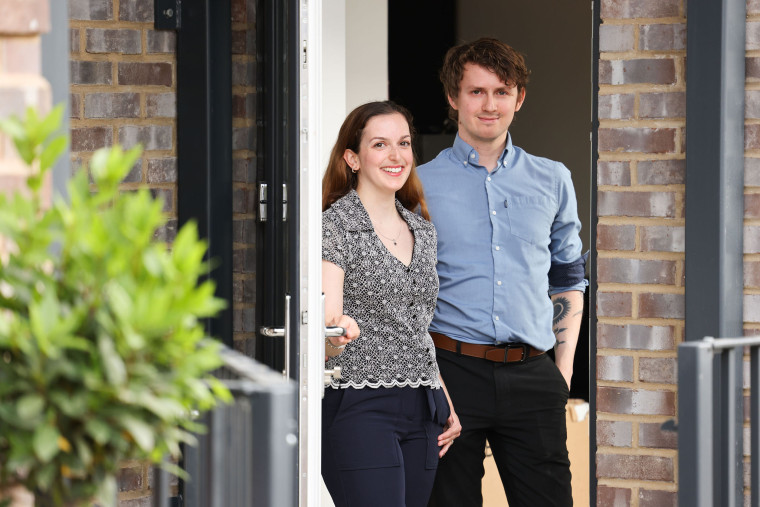 In May of this year, Executive Assistant, Eleonora and her partner Stan, a Letting Agent, couldn't see themselves owning their first home for another three years, until they came across Fairview New Homes' game-changing Save to Buy scheme on TikTok.
In June, first-time buyers Eleonora, 32, and Stan, 27, moved into their one-bedroom apartment, costing £339,000, after successfully applying for Save to Buy - the scheme which allows buyers to live in their new home rent-free, while saving for their deposit via fixed monthly payments.
With £9,000 saved, equating to a 2.65% deposit, every penny of the couple's monthly £1,590 payments will go towards their home buying deposit, with the aim of completing within five months, by which point they'll have saved a 5% deposit totaling £16,950.
Eleonora said: "It's crazy – a couple of months ago our dream of owning our own home seemed so far away. Now, by the time November (2023) rolls around, we'll have saved the entire 5% deposit and officially be homeowners, all while living in our new home and not spending a single penny on rent."
While the couple weren't actively searching for a property to buy, as they felt they were too far off their deposit saving goal to secure a mortgage, they had already begun their saving journey, and were keeping an eye on the market. "At the time we were not really thinking about buying seriously - we were only interested in having a look to get a feel for the market and to make contact with the agents for when the time was right." said Stan.
Telling of how they came across the scheme, Stan said: "My sister shared a TikTok about Save to Buy; we thought it would be really convenient for us since we didn't have the deposit to buy but we knew we had the monthly income to support a mortgage, so it helped us get on the property ladder."
Eleonora added: "The TikTok described the scheme as a lifesaver for many people who wanted to buy. We started searching for more information the same day."
"We saw one property at Epping Gate, we decided to go for it and haven't regretted it!" concluded Stan.
Like many experiencing spiraling rental costs, Eleonora and Stan were worried about the uncertainty of rental payments, and the fact that their landlord could increase their £1,100 monthly payments at any time. Stan said: "As a letting agent and knowing the uncertainty that comes with renting and the crazy increases people are experiencing, we were worried the same would happen to us."
Eleonora added: "The main thing for us was to escape the unpredictable rental market; we thought that by buying we could invest our money in something that would one day be ours, rather than keep paying landlords. Everyone deserves the chance to own their own home and Save to Buy gave us that chance."
For someone to be accepted through the Save to Buy scheme, they still need to go through the standard house buying process, including credit score and affordability checks, have a mortgage in principle agreed, and carry out legal and conveyancing steps. Despite Save to Buy being a new scheme, Eleonora, insisted the process couldn't have been easier. "We first saw the property in the third week of May and we got the keys on 9 June – we couldn't quite believe how quickly it happened. Everyone at Fairview and other professionals we dealt with were incredibly helpful and made the whole process as efficient and stress free as possible."
A multitude of factors such as affordability, house prices, and cost of living to name a few, make homeownership a challenge for many. Schemes like Save to Buy present a real opportunity to combat those challenges; Eleonora said, "Schemes like this one can only be a good thing as the property market is such an unrealistic challenge for so many. Stan's parents haven't been able to own their home before, so they were very proud when we told them we'd be buying our first place together."
The couple had been renting in the area prior to moving to Epping Gate, and couldn't be happier about being able to stay local. "We mainly bought at Epping Gate because of the scheme but it worked out perfectly as we love the area. Loughton really does give you the best of both worlds – peaceful and green but you can still get into London in no time at all. We love how fresh and new our home is – it gives us a better quality of life, especially as I work from home most of time." said Eleonora.
Eleonora's advice to anyone thinking of using the scheme: "I know at first it might seem like it's too good to be true, but it really is exactly what it says it is. The whole process isn't as daunting as it seems, so don't be afraid to take the plunge! It has changed our lives for the better and we couldn't be happier with our new home."
Watch Eleonora & Stan's Story
Watch Eleonora & Stan's heartwarming journey to their dream apartment at Epping Gate unfold, and how our Save to Buy Scheme turned their dreams into reality!
Epping Gate
Essex, Essex
No of bedrooms

1-3

Price

From £400,000

Est. completion date

Available now
Situated in an independent and historical town with a great sense of community but still close enough to London for an easy commute, our brand-new development of 1, 2 & 3 bedroom apartments in attractive Loughton gives you the very best of town and city.