01 July 2023 ·
Going through Fairview saved us around £3,000 on mortgage and solicitor fees. The staff were willing to listen, and were clearly experts in their field.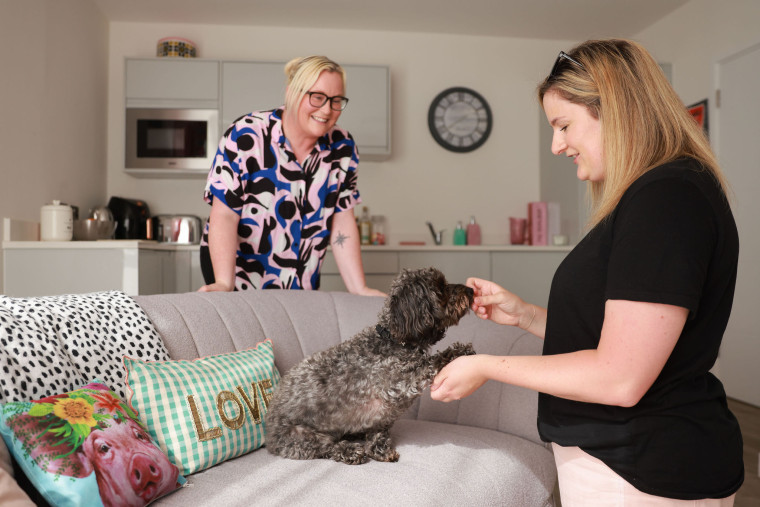 Jenny, Head of Performance and Wellbeing at West Ham United Women and her wife Emily, Director of Programme at London Youth Rowing, purchased their two-bedroom home at Epping Gate for £389,000 in Spring this year (2023), and building a strong credit score to give them access to Deposit Unlock, couldn't have been more crucial.
Jenny and Emily are first-time buyers who purchased a two-bedroom, two-bathroom apartment at Epping Gate in Loughton in March 2023 using Deposit Unlock; a scheme, which allows buyers to purchase a new-build home with just a 5% deposit - in their case £19,450 - which was essential for their purchase. "We didn't know about Deposit Unlock before visiting Epping Gate so when we found out it was a scheme we could use we were thrilled, as it gave us the opportunity to get on the property ladder in a place we really liked."
When starting their buying journey and speaking to mortgage advisors, the couple quickly realised how impactful their credit score was on their ability to purchase a home. "We hadn't thought about our credit score much prior to seeking a mortgage, but once we started looking we made a conscious effort to understand how it worked and be more aware of our credit scores."
Having a strong credit score is important to anyone looking to get a mortgage, but even more so for those looking to use helpful schemes like Deposit Unlock. This is because the loan-to-value is so high and particularly in uncertain times with high interest rates, lenders need to be sure the borrower has a strong financial track record that shows they capable of meeting their repayments.
Jenny and Emily began monitoring their credit scores by using handy apps as well as speaking to expert mortgage advisors. "We became more informed by speaking to our mortgage advisor and using websites like Experian. We began monitoring and building our credit scores around 18 months ahead of purchasing our first home."
Jenny's advice to those seeking to buy a house and reliant on a mortgage would, as a starting point, be aware of what a credit score is and how spending can affect it. "The starting point for us was an awareness of what's monitored on our credit score, which led us to tune in on our spending a little bit more.
"For example, we started to use our credit card more often to show we can pay things off quickly. We also used clever platforms to monitor any changes in our credit score. They supplied a breakdown of our credit scores across multiple platforms such as Experian."
"My advice is don't just use one credit score platform - try and gauge your average score across multiple platforms, as different lenders use different platforms to assess you. It's also helpful to align your payment dates and make sure they match up to ensure you're not missing any."
"Ultimately, the main thing for us was just being more aware and mindful of our everyday spending and how it directly impacts our credit score. We weren't aware of the depth and breadth of impact that every day spending can have on your credit score and how extensive the checks are when applying for mortgages. Had we known this earlier on, we would have been more mindful far sooner."
Previously renting in the London Docklands, the couple were motivated to purchase due to rising rent costs. "We were previously renting in the Docklands where rent was rising rapidly. We also couldn't decorate the property the way we would have liked so over the seven years, white walls and cream carpets became the norm."
The couple began their property hunt two years ago, initially looking at older properties, "We were originally looking at an older house in Kent. Our mortgage had been approved but our surveyor advised against moving in due to the poor condition of the property which needed more than £200,000 of potential work with walls, ceilings and floors that would all need to be replaced."
Having been put off by potential pitfalls of buying old due to their experience, the couple began to explore the opportunity of new builds, discovering Epping Gate. "If we hadn't come across such a fantastic property and great deal, we would have had to continue saving for a long time to come."
Now residents at Epping Gate, Jenny and Emily love the community-feel that the development offers, "We have lots of dog walking routes and have met lots of lovely people during our walks. We've also joined the local gym and frequent Epping Forest with our little dog Coco. We also have an abundance of great local cafes and coffee shops which we regularly visit."
"We knew we liked the location of Loughton with its close proximity to Epping Forest, as well as it being an easy commute to London via the Central Line and close to the motorway. Not only this, the local area itself offers a fantastic high street that's right on our doorstep, so when we found this property we were immediately drawn to it."
The couple had a fantastic buying experience with Fairview, who guided them through the entire process. "Going through Fairview saved us around £3,000 on mortgage and solicitor fees. The staff were willing to listen, and were clearly experts in their field. Previously we had spent so much time visiting potential properties where the agency didn't even know the price or other key details. At Epping Gate, the sales team couldn't do enough to help us. They answered all our questions in a very 'can do' way."
The process was also very speedy, far quicker than it would typically take for the sale process of an older property. "We went to our first viewing on 15 February and had moved into our new home by 31 March. Fairview connected us with our mortgage advisors and solicitors which expedited the process hugely. Friends had warned us that the buying experience could be long and tough, but for us we felt that at any point we could pick up the phone or email and all questions we had could be answered."
Epping Gate
Essex, Essex
No of bedrooms

1-3

Price

From £400,000

Est. completion date

Available now
Situated in an independent and historical town with a great sense of community but still close enough to London for an easy commute, our brand-new development of 1, 2 & 3 bedroom apartments in attractive Loughton gives you the very best of town and city.