13 August 2021 ·
Make the most of your balcony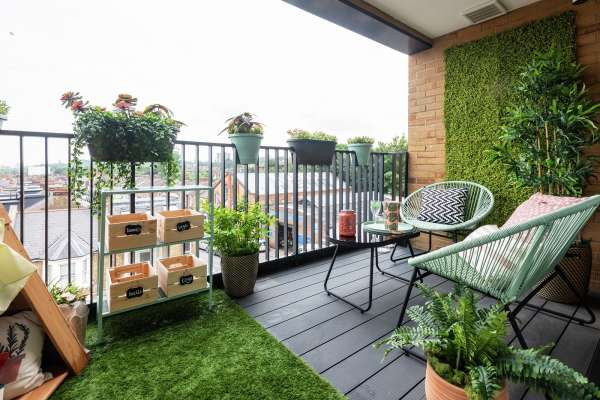 Fairview's interior design experts share five simple tips on how to maximise your balcony, as outdoor space is on every home buyer's 'must' list when on the hunt for their dream home.
Though Londoner's home garden spaces are 26% smaller than the national average, that's not that case for Fairview New Homes' Synergy Charlton development in the Royal London Borough of Greenwich.
All apartments have their own balcony or terrace, perfect for those seeking London-living with private outside space. The largest balcony at Synergy is more than twice the size of the London average at 11 sq mt – that's bigger than two king size beds!
Being just a stone's throw from Greenwich Shopping Park, offering home stores such as Homesense, M&S and B&M, as well as Greenwich IKEA, there's plenty of shops to purchase balcony essentials.
Create your own urban oasis
Bring your balcony to life by growing plants, flowers, herbs and even vegetables in abundance. Potted plants not only add colour and privacy to a space, they also help urban wildlife such as bees and birds, giving you something to care for.
Lavender is a great bee and butterfly-friendly option and its relaxing scent will add a sense of tranquillity to your space.
Herbs always come in handy when cooking up a feast and are a fantastic fragrant addition to your balcony, while vegetables such as tomatoes, peppers and chillies can be grown easily with very little space, just plenty of sun light and water.
Hanging baskets are another fantastic option, especially if you have limited flooring space. Plant them with a variety of flowers and foliage to ensure year-round colour, just ensure they are securely fitted and receive adequate shade.
Bring the indoors out
Add comfortable space-saving furniture that can live outdoors year-round; consider purchasing furniture with under-seat storage, that can house soft furnishings such as throw cushions and blankets, which will make the balcony a continuation of your indoor space and a place you'd like to relax.
Small coffee tables and an outdoor rug are also a great way to transform your balcony into a cosy nook.
To make the space feel larger than it is, match colour schemes both inside and out; opt for hardy fabrics that will endure the weather for any outside items. We love these outdoor scatter cushions from local store, B&M.
Make it ambient, light it up
Even though the summer months bring lighter evenings, why close the balcony door when the sun goes down? Ambient lighting makes a balcony space enjoyable well into the night, whether that be socialising with friends or curled up reading a book. Brighten up your space with solar-powered fairy lights, lanterns and tea lights for soft and relaxed lighting.
You can pick up these cosy solar-powered string lights locally at B&M for those al-fresco evenings.
Magic up more space
Small decorative or simple outdoor mirrors are a fantastic way to give the illusion of more space on your balcony. The light reflects into darker corners of the space, adding depth and the sense of the space being much larger. Mirrors paired with plants create the feeling of a beautiful abundant oasis too.
Maximise walls
While larger potted plants are best placed on the balcony floor, smaller plants can be placed on wooden wall panels and shelves, to make use of the floor to ceiling height of the balcony. IKEA offers a great selection of garden storage options, including this wall panel with shelves and pot hanging hooks.
A trellis is also a great, cost-effective way to maximise wall space, add privacy and grow fragrant floral plants in the summers months, and vegetables too.