11 March 2019 ·
Ground-breaking ceremony kicks off construction work at major New Feltham development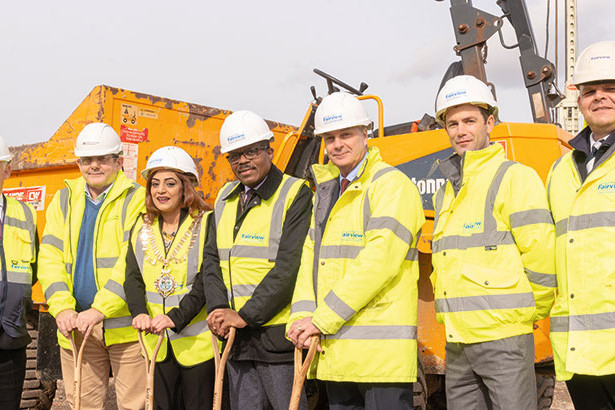 The Mayor of Hounslow was one of the first to cut the turf at a major new housing development in Feltham.
Councillor Samia Chaudhary was among the guests to attend a ground-breaking ceremony hosted by Fairview New Homes to mark the start of construction work on its development of 120 apartments off New Road.
Hounslow District Council Leader, Steve Curran, and Strategic Director of Housing, Planning and Communities, Peter Matthew, joined the Mayor at the event and were invited to tour the site by the Enfield-based developer.
Speaking after the ceremony on his online blog, Cllr Curran stressed the importance of providing more homes for Feltham and the wider borough.
He said: "This marks the start of the new housing being built for local people as part of the council's 5000 pledge. 120 houses will be built with 40 per cent being affordable housing.
"Increasing housing supply is part of our strategic plan for the regeneration of Feltham and Heston. We have worked very closely with Fairview New Homes and the GLA, to ensure that the 40 per cent strategic target for affordable housing is met.
"We want to keep the community at the heart of this project and as a result, the application will generate £1.4 million in CIL monies for improvements to the local infrastructure."
The single acre-site borders the Longford River and was previously home to a disused Labour Club, six residential properties and a car park, which was deemed surplus to requirements by the council last year.
Planning permission for the development was granted in September 2018 and demolition of the former Labour Club and residential properties took place in February. Fairview is expecting to finish construction work on the first apartments by July 2020.
Andy Georgiou, Sales and Marketing Director at Fairview New Homes, said: "We were delighted to welcome Mayor Chaudhary and senior members of Hounslow District Council to our development in Feltham.
"As a company, we take pride in regenerating disused brownfield sites into thriving new communities and we are excited to be breathing new life into this site in Feltham.
"The old Labour Club had been left vacant and redundant for several years and our acquisition of the site will enable us to provide much-needed housing in Feltham as the town continues to grow.
"With demolition now complete, we look forward to proceeding with construction and seeing the first homes taking shape."
When complete, the new development will comprise a range of one, two and three-bedroom apartments across seven blocks which will range from four to 10 storeys in height.
Of the 120 new homes, 25 will be made available for affordable rent while a further 23 will be available for shared ownership.
As well as providing new homes, Fairview will also help fund a new footbridge over the Longford River, which will connect the development to the adjacent Glebelands Park and provide a new footpath along the river's banks from New Road.