30 June 2022 ·
How first-time buyers can benefit from the 'Crossrail effect' and invest in a bright future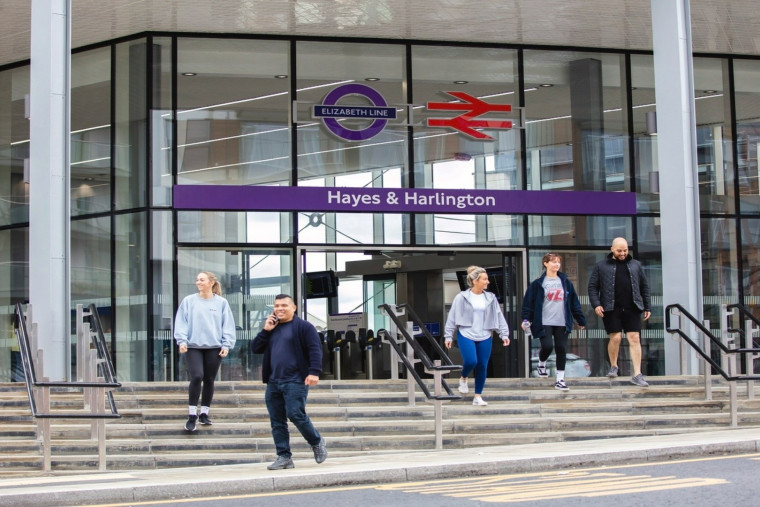 Purchasing a house is often the most important investment an individual will make in their lifetime. But with the average house price in London sitting at £526,183*, affording a home is an impossible challenge for many in the capital. It's no wonder first-time buyers are often priced out of the central areas they rent and work in, therefore choosing to move out to sub-urban areas on a mission to get onto the property ladder. However, there are pockets of London that mustn't be overlooked, those experiencing regeneration and investment in great transport links, meaning a bright future is just around the corner.
For first-time buyers looking for a property that's affordable now and going to appreciate in value over time, it's important to get ahead of the curve and look for properties in areas less well known - somewhere like Hayes in the West London borough of Hillingdon.
Hayes has a long industrial history being the home of household names like Nestle and HMV. Over the past decade, these companies have left the area. However, following a big £4.5million investment in transport and improving the existing infrastructure and local parks and waterways, the area is becoming increasingly popular. The high street is being revived with new offices, household named shops are back, businesses are opening up and an entertainment and leisure complex is thriving. On top of this, significant investment has gone into 5,000 new homes in the Hillingdon borough, 60% of which will be in Hayes, including Fairview New Homes' NewHayes Development.
The brand-new TfL Elizabeth Line, which opened in spring of 2022, has greatly enhanced Hayes connectivity to central London and surrounding areas. Those who buy in Hayes will benefit from a journey time to Paddington in just 17 minutes, Liverpool Street in 27, and Westfield London in 35 minutes. Hayes is also only one stop on the Elizabeth Line to Heathrow, and close to the M4 and M25 making it a great location for those who must frequently travel.
This increase in connectivity has led to higher buyer demand in the area; Hayes is up 74% over the last year and is expected to continue to grow at between 2-4% a year, especially as more young professionals seek out affordable areas with an easy commute, while staying in touch with the buzzing social scene in central London.
Busola, who bought a one-bed apartment for £327,000 at NewHayes in December 2021, shares her excitement about the future in Hayes.
"Due to NewHayes' excellent transport links, I was happy being in Zone 5 in order to get a more spacious flat with outside space and a car park. NewHayes' location really suits my needs, it offers great access to Heathrow, my place of work and central London to socialise and shop.
"I was really excited by the prospect of the Elizabeth Line coming to Hayes when I was buying my home, it definitely made the area more appealing knowing that this investment will positively impact the area. It will also make it an even more attractive location for buyers wanting to live in sub-urban London, so I am grateful to have gotten onto the property ladder now."
Even amidst rising house prices, Hayes stacks up impressively to its neighbouring boroughs. According to trusted property experts, Foxtons, the average Hayes apartment is 27% cheaper than the average West London apartment and 41% less than the average cost for the wider Greater London area. Rental yields are also at an impressive 5.5% as more renters choose to relocate further away from central London where average rental prices have risen to £1,832 - this makes Hayes a great location for investors.
One-bed apartments at NewHayes are priced from £290,000 and are a great example of the affordable options this area has to offer. The development has 331 modernly designed studios, one, two and three-bed apartments and duplexes each with a private balcony or terrace. There are currently 38 Help to Buy properties available left before the October 31st deadline.
Whether you're a first-time buyer, investor or even a downsizer, investing in a property in Hayes represents a smart move if you're looking for somewhere affordable that also promises a healthy return on investment.
*As detailed in the ONS House Price Index for May 2022