·
How to get ready for Christmas with Vesta Interiors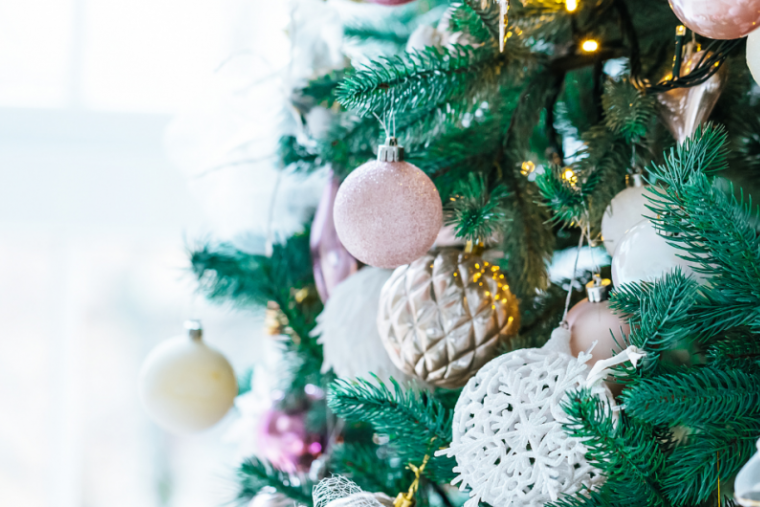 Slade is on the radio and Christmas spirit is in the air, but this year many of us just aren't sure how to celebrate the festivities in our home. Feeling the need to get in a Christmassy mood, we spoke to Interior Designers, Ashley Baker and Gemma Roberts, from Vesta Interior Design for their advice on how to bring the festive magic back into our homes.
HOW SHOULD YOU APPROACH STYLING YOUR HOME THIS CHRISTMAS?
With everything that's happened this year, Ashley's advice is to not worry about festive trends and instead work on creating your own festive style. She told us, "When you create your own Christmas style, you know that it will never go out of fashion. It will always represent Christmas to you and your family. By approaching the festivities in this way, you'll not only feel proud knowing that your design has all been curated by you, but you'll also be able to make sure your Christmas decorations are as sustainable as possible too."
Gemma backed this up by saying, "this year it's about sustainability and we're going to see lots of people buying environmentally friendly decorations such as natural foliage, paper decorations and Christmas trees sourced from local farms. Shopping for sustainable decorations and gifts from local and small businesses is going to be popular too".
CREATE THE FEEL OF CHRISTMAS
There's nothing better than walking into a room that simply feels like Christmas. It's a mood in itself. To create that cosy atmospheric feel we all know and love, Ashley recommends decorating with "simple lights that have a warm glow".
Gemma suggested combing the lights with lots of greenery and natural foliage which you can drape along mantlepieces, shelves and banisters too. She said, "eucalyptus is really popular, and can be teamed with holly and pine. The greenery helps connect us to nature, which is especially needed when we have been indoors so much this year".
"Scent is so powerful, so add scented candles and diffusers around your home too", added Gemma.
UNLEASH FESTIVE MAGIC INTO EVERY ROOM
When we think of decorating our homes for Christmas, there are usually a few key rooms we think of. Living areas, kitchens and hallways often bag a lot of festive attention, but that's not to say you can't spread the festive cheer a little further into your home this year. We asked Ashley and Gemma for their advice on decorating bedrooms for Christmas, enabling you to wake up and enjoy your decorations straight away.
"Decorating a chest of drawers with a branch that's hanging baubles and has lights wrapped around it an easy way for you to create a minimal, inexpensive and effective aesthetic in your bedroom," said Ashley.
"Create soft lighting with fairy lights," Gemma added, "and display decorative pieces on bedsides, with scented candles such as cinnamon, pine and winter spice too".
MAKE A STATEMENT IN THE DINING ROOM
Being a place in the home where your family are sure to gather on Christmas Day, dining rooms are a great place to get creative. Along with layering your table with soft linens, tapered slim candles and earthy coloured ceramic, Ashley suggested creating a focal point by hanging decorations from above the dining area. She said, "you could use an oversized twig, or create a leaf display, or hang an origami style star. These types of decorations will avoid blocking anyone's view on the table".
FESTIVE STYLING TIPS FOR SMALL BUDGETS
Whether you're saving for the deposit on your first home or simply need to be extra careful this year, there are lots of affordable festive styles you can try out. Ashley and Gemma suggested the following:
Think carefully about the space(s) you want to decorate and consider styling just one area in your home
Try a minimal look with only a few decorations in each room
Get creative with organic and natural materials such as pinecones, holly and juniper berries
Create macrame decorations
Make some paper bunting
Christmas this year will certainly be one we all remember but the decision on whether to go all out with your decorations or stay minimal is up to you, but choose a style which will help bring positivity into your home during this strange time. Next year, should look completely different for us all, and who knows, you could be enjoying your first Christmas in your very own Fairview home!
Explore our selection of current and upcoming developments in London here.