22 January 2021 ·
Interior Design Tips with Alice Milnes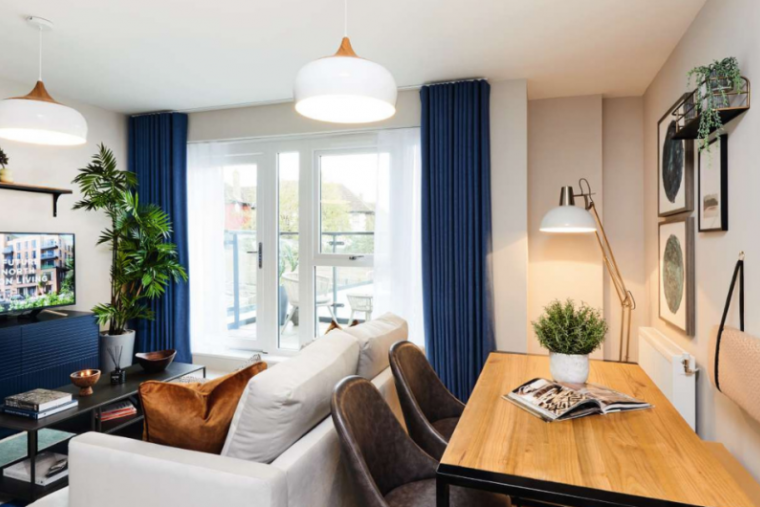 Long before you get the keys to your very first home, you've already planned in your head how to bring your personality into the interior design. Buying new furniture, painting the walls, deciding on the colour schemes – that's the best bit, right? But then again, there's a lot to consider. So, Alice, Lead Interior Designer at Vesta Interior Design, has shared a few tips and rules for first time buyers dipping into their own interior design for the first time.
In a few sentences, tell us about yourself.
I'm Alice Milnes and I'm Lead Interior Designer at Vesta Interior Design. When it comes to interior design, I love experimenting with colours and materials. I believe my passion for experimenting must all stem from my degree in textiles, I just love all things bold, fun and colourful!
What is a good starting point for a first-time buyer dipping into interior design for the first time?
I would suggest that you focus on the bigger budget statement pieces in your home first, such as your sofa and bed. These are pieces you'll want in your home for a while so make sure they're a style you'll like for a long time.

The smaller things like a painted feature wall or soft furnishings are things you can be bolder with and challenge more, this is because they're a lot easier and affordable to change.


Other than Pinterest, what other sources of interior design inspiration would you recommend?
Films and TV shows give me a lot of inspiration. You can get a lot from paying attention to the scenes and houses. A good example is Monica's apartment in Friends. It's so iconic, but it's purple, and when do you ever see a whole room painted purple? You just don't think about or even notice this unusual colour, yet it works so well.


Choosing the main colour for an interior design project is not always easy. Do you have any tips or rules when it comes to choosing colours and shades?
I have two rules when it comes to choosing colour; the direction a room is facing and the feel you want to achieve from a room. If you have a north facing room and you want it to feel warmer, you need to use colours with a warm base, such as yellows and beiges. South facing rooms get a lot more sun, so even blue tones, which naturally create a colder setting, are still a good choice in a room that always gets a lot of light.


What are the interior trends you're seeing for 2021?
Although it's not strictly an interior trend, I think versatility is going to be key in 2021. We've already seen this from Dulux's Colour of the Year; Brave Ground. It's an earthy neutral colour that immediately connects us to nature and calm. It's easy to layer with different colour palettes and is simple to use, making it appeal to the masses. In 2020, we've needed tranquillity and escapism amid the uncertainty and chaos, so I think it's the perfect colour to carry us into 2021.

Versatility will also be reflected in the need for our homes to be more multifunctional than ever before. Home is now where most of us work, relax, exercise and - for some – educate. We need to be able to easily switch from a work environment to a space where we can relax, so being able to create a space that can do just that - whether it's through colour, furniture, accessories or even layout - will be very important.


What are some decorating tips for budget-friendly interior updates?
Paint is a great budget-friendly decorating tool. Not only is it a much more effective way of adding colour or pattern than wallpaper, but you can also be a little inventive and paint the skirting boards and door frames to give a room a completely new look. Alternatively, you can try painting one wall or a section of a wall to add a creative feature, or to zone areas of a room – I love a bit of colour blocking.

Adding artwork to your home is a great way to include new colours and shapes too. Using frames in different materials can really make a striking feature, or you could use multiple images to create a gallery wall.

Using accessories such as a couple of scatter cushions on the sofa or bed can change how a room looks entirely without having to make any big expensive changes. Lamps are great for making a space feel cosier too, and by refreshing a lampshade you can save on buying a brand new lamp!


For someone who has just moved into their new home, which room would you recommend decorating and furnishing first?
I would recommend the room you spend the most time in. For many that's the living room, so it's important to get the right furniture you need and want. For others, it could be the bedroom because it can be a sanctuary and somewhere they want to relax.


What are the things that people normally underestimate when it comes to interior design?
People underestimate how much the finer details make a difference. For example, I'm currently working on a headboard that has a stitch detail specifically chosen to contrast with the main colour.

Those are the secret little details that an interior designer will consider when creating an entire look and feel, this is more subtle but equally as important as one of the statement pieces. These details pull the room together and completes the look. Another example of this could be the use of a specific colour on the piping of a cushion, as this could be used to tie in with a colour in a different area of the room.


What is the one piece of advice you would give to first time buyers decorating their first home?
Don't be scared. If you have an idea, go for it. At the end of the day, if you choose a paint colour for the walls and don't like it, it can always be changed.

There you have it, some tips for decorating your home with one of our chosen interior design companies, Vesta Interior Design. We work with Alice and the team to create outstanding showhomes at our new build developments across the city of London. You can see their latest work with us at The Lane development in Tottenham. You can book your appointment here to view the showhome.