01 January 2023 ·
Jan and his partner spent a year looking for their dream home, and when they first started their house hunt, they didn't have a new build in mind. It wasn't until Jan went to visit the Sales team at Kingston East that a new-build home became a strong possibility.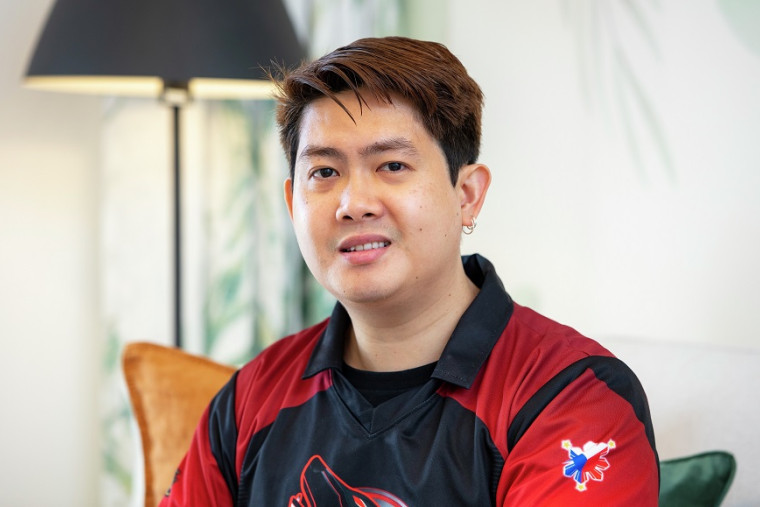 Jan, a 38-year-old NHS worker purchased a ground floor three-bed Duplex with a terrace and balcony in Kingston East, New Malden, for £575,000, and completed in May 2022. Jan used the Help to Buy scheme meaning he and his partnered only paid 5% Deposit of £28,700, and received a 40% equity loan from the Government.
"Without Help to Buy, I don't think I'd have been able to buy a property until my next life!"
First-time buyers Jan and his partner had been renting in Kingston for three years but were able to fulfil their dream of buying their home after the pandemic halted travel plans…"My partner and I had been saving since 2019. We had planned to go on a long holiday to see our families back home in the Philippines, but as the pandemic hit and we had to cancel our trip we instead put our savings towards a home."
"Due to the pandemic and working for the NHS, there were plenty of extra shifts available, so in addition to our core hours we put in overtime which helped us to save too. While the past two years have been particularly hard, we kept our focus on maintaining a daily routine and saving whatever we could. We were amazed when we realised we could buy our first home after just two years of saving – a silver lining of the pandemic I suppose", Jan said.
Sharing his tips on how to save, there are no quick wins but self-restraint according to Jan… "We were just really disciplined, financially, mentally, physically and emotionally. Yes, there were some obvious savings we were able to make as lockdown restricted travel, but we were also conscious not to spend any money on luxuries either. Over time, as our deposit grew, we soon didn't even feel the impact of our savings leaving our current account each month, we built a saving habit that worked for us and it really paid off."
Jan and his partner reserved their home, a ground floor three-bedroom duplex with a terrace and first floor balcony off the master bedroom, at Kingston East in late 2021 and moved in by the spring. Helping them on to the property ladder, Fairview paid the couple's Stamp Duty, which was £18,750…"We had just missed out on the Stamp Duty Holiday, so we were incredibly grateful to Fairview for supporting us."
"We had never thought it possible to buy our own home, especially in London, but those two years of saving made it all possible. It's a dream come true to have bought our own home, it offers complete peace of mind, which is priceless, and wasn't possible when renting."
Jan and his partner spent a year looking for their dream home, and when they first started their house hunt, they didn't have a new build in mind… "It took some time for us to find our home, as we had quite a few criteria to meet. We wanted to be within walking distance of work, in an area we felt safe in which was peaceful, and also offered great amenities. I wasn't sure we would be able to afford a new build to start with, and from my initial research, I kept finding Shared Ownership opportunities – but I wasn't keen on this option."
It wasn't until Jan went to visit the Sales team at Kingston East that a new-build home became a strong possibility. "As a first-time buyer, I felt like a child lost in a big city! I had loads of questions as I navigated the possibility of buying a new build. The Sales team at Kingston East were so passionate, dedicated, and transparent throughout. They were straightforward in their explanations which really helped me to understand the options available to us. They calmed any worries I had, and came back to all of our queries quickly, and helped each step of the way, which made the whole process smooth and easy.
Discussing their decision to purchase a new build, rather than a doer-upper…"Though at first, we didn't think it possible to be able to afford a new build, we had always been hopeful that one day we would, as they offer so many benefits. The fact that they are so clean having never been lived in and all of the appliances are brand new and ready to use! They are also more affordable to run, and insurance on a new build is more reasonable."
As well as loving the home itself, the location is a big perk for Jan and his partner… "Kingston East is in a fantastic location and the area has so much to offer. As well as having shops on our doorstep, and great local independent businesses, we are also a short distance from work. I can be at the hospital for my shift in 20 minutes by foot, and with the bus stop right outside, after a long day I can jump on the bus and be at home in 5 minutes."
Having rented in Kinston for three years, Jan and his partner had fallen in love the area and were sad that they might have to move to buy an affordable home elsewhere, "Having gone past Kingston East on the bus each day to work, we are so happy that we went in to speak with the Sales team and view the show apartment. We're now able to stay in the area we love and are familiar with, but what's even better is that we now have a place to call our own and put our stamp on. It's a spacious open plan home and a great blank canvas for us to decorate as we wish – no need to ask permission from landlords!
For first-time buyers on the hunt for their dream home, Jan shares his tips for anyone unsure where to start… "do some research, and be comfortable asking lots of questions. If you have your heart set on a new build, visit a development of interest and have them conduct an affordability check. That will help to understand how much you need to save, and what you can afford. From there, it will be easier to save money when you have a goal in mind. It's hard work to save, but it's so worth it."