25 February 2021 ·
Small Interior Changes That Make a Big Impact with Vesta Interiors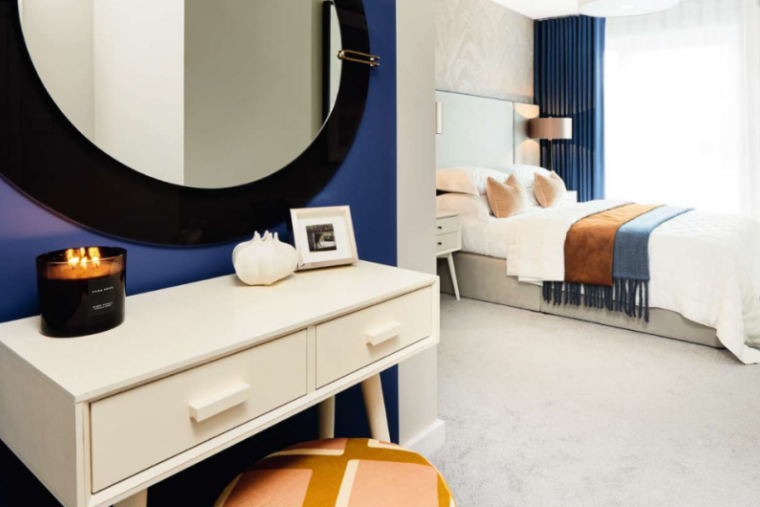 Updating your space doesn't always mean you have to make big, expensive changes. Instead, there are a few small things you can do to give your home an instant revamp. Alice Milnes, Lead Interior Designer from Vesta, shares her top tips and tricks on how to keep your home looking its best – and with very little effort.
Move things about
While it might seem obvious, moving things around can really refresh a room and create space. If you fancy a change or a new style, take stock of the accessories and furniture in your home and decide if they can be moved to a new spot in the house – this can make all the difference and it costs nothing!
Changes in the kitchen and bathroom
If your kitchen cupboards are looking dated, give them a new look with a fresh coat of paint and new handles. This can especially help wooden cupboards! You can even introduce tiles to add pattern and colour.
If you have tiles in your kitchen or bathroom, you can repaint them using tile paint or cover them with tile stickers.
Adding a lick of paint
Paint is a simple and effective decorating tool. You can use it on everything from walls to woodwork to furniture. A great way to add a bit of colour and give a room a new look is to paint the skirting boards and door frames; this only requires a small amount of paint and can make all the difference.
You can also use paint to 'zone' areas of a room. For example, if your spare bedroom or living room is also doubling up as a home office, try painting a block colour around where your desk sits to divide the space.
Lighting
Atmospheric lighting in the shape of a floor lamp or table will make a space feel cosier. Similarly, updating a lampshade can make all the difference and save money that would usually go towards a brand-new lamp/light. If you struggle for space, you can opt for some beautiful wall lighting instead.
Upcycling
Whether it's a table that needs a lick of paint or a sofa that can be re-upholstered, upcycling can revamp a piece of furniture. Not only is it great for your budget, it's also great for the environment!

The little touches
Adding or changing artwork is a great way to add new colours and shapes. We love to use a variety of frames to make a feature and create a gallery wall. This can especially be a good way to bring some style to your stairway or landing.
Wall hangings such as macrame can introduce a nature-inspired boho feel to a room.
If paint or wallpaper isn't for you - or if you're in rented accommodation - you can add colour through a few bright scatter cushions, throws, statement rugs, and accessories. This can change how a room looks entirely without having to make any big expensive changes.
Just like new accessories or soft furnishings in a living room, new bedding can make your bedroom feel completely different.
Houseplants are a simple way of introducing greenery and texture into your home. They're great for your wellbeing and create the perfect feeling of escapism and tranquillity.
But for the Bigger Changes…
This list of quick-fix improvements to your home can bring you closer to your style goals, but you might be limited in scope by rented accommodation. We're pleased to report that you won't have this obstacle when you buy new!
Our apartments at any one of our developments serve as a canvas for your personal style, and if you're a first time buyer, London Help to Buy can bring you closer to owning your own space, letting you decorate to your heart's content.