19 January 2021 ·
The Best Tips for Saving for a House Deposit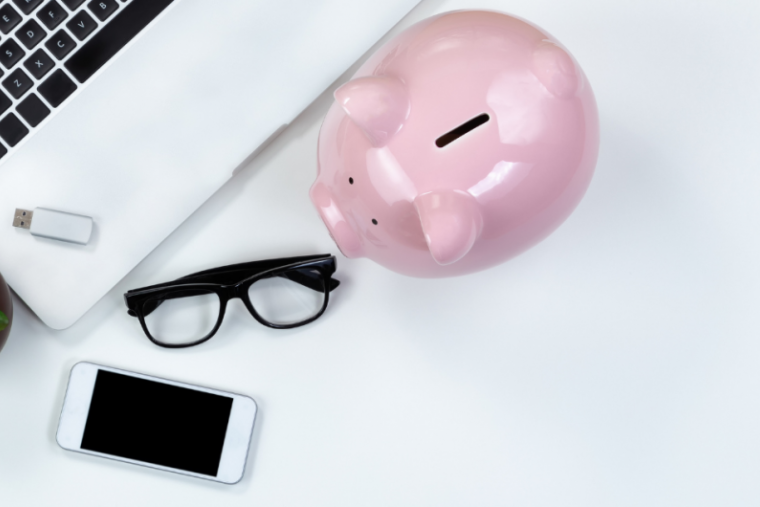 2021 is finally here, and whether you've made a promise to exercise more, grow your savings account or invest in more plants instead, becoming a homeowner is on many of our resolution lists for 2021. The likelihood is that you've been daydreaming about your own place for months, but when it comes to saving enough money to make your dream a reality, you just don't know where to begin. We know that traditional New Year's resolutions normally fail, that's why we have put together a list of tips and strategies for deposit saving that will hopefully give you some inspiration and help you stick to your resolutions.
GET YOUR HEAD IN THE GAME
Saving works best when you have the right mindset. Often, a good saver is described as someone who's been saving from a young age, has always been strict with their money, and gets up early to walk to work rather jumping on the tube. We don't think you need to have an A grade savings record to start saving for your first home, it's all about mindset and you can change that today.

If you want to save for the deposit of your first home, New York Times bestseller author, James Clear shares some useful advice in his book Atomic Habits. The book explains how goals are more achievable when you consider yourself as someone who is successfully on their path to achieving what you're aiming for. James explains that you must "decide on the type of person you want to be". So, the next time you're walking past a retail store and considering nipping in for a pay day treat, simply ask yourself this question: what would a person who is successfully saving for their first home do?
WORK OUT HOW MUCH YOU'LL NEED TO SAVE
When you know you're ready to save and prepared tighten your belt to do it, the next step is to work out exactly how much you need to save. Defining this goal will help you clearly track your progress and achieve mini milestones along the way.
Research by National Savings & Investments (NSI) shows that people who set realistic savings goals save faster and up to £550 a year more than those who don't.
It works: knowing that you're saving for something specific like a house deposit is going to make you more likely to save; something called mental accounting. It means that we have a tendency of assigning money into different 'mental pots' based on our priorities. If you're just saving without a clear goal, it becomes easier to justify taking out the odd £10 here and there.
So, you'll need to work out how much you'll need to borrow to pay for a mortgage as this will affect how much of a deposit you'll need to save. For example, if you want a 90% mortgage on a £350,000 home, you'll need to save for a 10% deposit. If you'd rather pay smaller monthly mortgage payments and owe less overall, you'll need to increase your deposit. Buying with a larger deposit can often mean getting a lower interest rate – but be aware that mortgage providers tend to look at deposits in multiples of five. For example, you may get a better rate for a 10% house deposit than 5% one, but bumping it up to 7% is unlikely to make a difference.
When working out how much you'll need to save, it's also good practice to factor in closing costs, solicitor fees and any hidden costs such as mortgage broker fees which can easily sneak up on you.
START SAVING
Now you know how much you need to save to get yourself onto the property ladder, it's time to start saving. Your savings strategy should begin by taking an in-depth look at your current spending habits and seeing which payments you can reduce or cut out all together.
Look for direct debits on your statements which you no longer need, and review how much you're paying for services like energy, broadband and even your mobile phone. Also review any current debts and consider paying them off first, paying off your debt may help you save quicker in the long run.
Switching up where you shop can also help save significant costs, some shoppers been knownto save £40 per month when buying from budget-friendly stores such as Lidl and Aldi. Downgrading on household items such as washing powder and liquid is worth trying too
Get savvy in the kitchen! Whether you love eating out or have got into a routine of always having food delivered (London was the only area that KMPG surveyed where people admitted to ordering 7 or more takeaways a week), improving your cooking skills can do your deposit wonders. Why not experiment in the kitchen at weekends rather than eating out.
Property website home.co.uk, calculated that the average cost to rent a one-bedroom property was £1,934 earlier this year and £747 just for a room. These costs show how advantageous it can be to downsize and why it's seriously worth considering. Moving back in with your parents (if they allow it) is also an option for reducing your property costs, you could even ask whether they'd be able to support you financially with your deposit.
If you're next in line for a promotion or believe a pay-rise is due, initiate a conversation with your boss – always be mindful of the situation before asking this question and evaluate your employer's current dynamic before having a word– choose a day when you know they're in a good mood and cash flow is going well. If a pay rise isn't on the cards, consider additional ways of making some extra money. Mystery shops, delivery driving and even selling your old clutter is sure to bring in some pounds.
Transferring your savings as soon as you get paid is a lot easier than just saving what's left at the end of the month.


STAY MOTIVATED
Feeling unmotivated and losing focus can easily happen when saving for a deposit as the money you need won't just roll in overnight. Break your savings goal down into smaller chunks (even 1%) to stay on target and celebrate all of the milestones as you achieve them.
WHERE TO SAVE YOUR MONEY
When you're saving for a house deposit, it's good practice to separate your savings from your main cash flow and there are plenty of apps you can use to help. In fact, UK Finance reported that 26.8 million people were using online banking apps in 2019, proving that it's an extremely popular and trusted way to manage your money in this day and age. Here we've listed two popular banking apps and they're benefits for using them:
MONZO
Super simple to start saving
Ability to set money aside in individual pots
Customise your savings pots with images to keep your eyes on the prize!
Option to automatically round up every purchase you make to the nearest pound
Option to set up savings triggers which will automatically put money aside for you. For example, you can set up your app to transfer £5 into your savings pot every times it rains or is hotter than 20 degrees!
Option to open a specific savings pot where you can earn up to 1.50% (AER/Gross fixed) interest on your money, your money is locked away, you can only withdraw it in 12 months. All you need is £10 minimum deposit.
Competitive interest rates.
Find out more about Monzo here.
PLUM
Choose between an Instant Access account where you can withdraw money in 5 mins, or an Easy Access account where you can withdraw money in 1 working day (0.55% AER for easy access accounts)
App has an algorithm designed to supercharge your saving – it does the maths on your account each day and puts a little bit into your savings daily which will soon add up over time
Savings mood feature enables you to adjust how much the apps sets aside for you – there's shy to beast mode, and everything in between!
Ability to withdraw at any time, as often as you need
Option to set weekly round ups and save to the nearest pound
Rainy days – every day it rains, the app moves some extra money into your savings account for you
App challenges such as the 52 week saving challenge – designed to help you increase your saving week on week
Pay days – set the app up to transfer a fixed amount to your savings account each pay day – the best time to save!
There are no fees for these accounts, but bear in mind, the Easy Access (0.55% AER) is part of the Plum Plus & Pro subscription bundle starting for as little as £1/month.
Find out more about Plum here.
MAKE THE MOST OF LIFETIME ISA
If you're looking to buy a London home valued less than £450,000, moving your savings into a Lifetime ISA is also worth considering. This type of ISA offers a 25% bonus for those saving for the deposit on their first home and enables you to save up to £4,000 a year. You'll also have the ability to receive a £1,000 a year bonus on top of your savings, and although you won't be able to dib in and out of them like with a Help to Buy ISA, you will be able to access your money at the point of exchange rather than completion.
You can learn more about Lifetime ISAs here.
BEGIN SAVING FOR YOUR OWN LONDON HOME
Get one step closer to home ownership by starting your savings plan today. Learn more about our types of homes available and coming soon in London and the Home Counties here.