·
The Sympathetic renovation of Welcombe house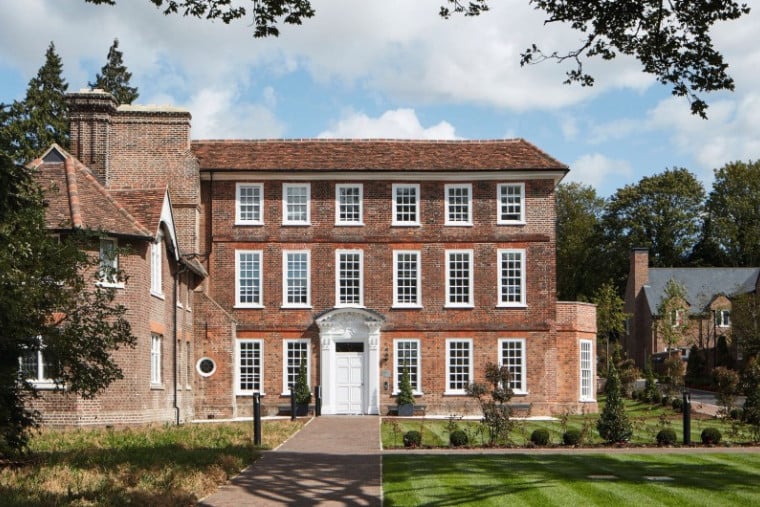 In the town of Harpenden, Fairview New Homes has completed the renovation and redevelopment of the former Harpenden House Hotel. Its careful restoration and conversion into luxury homes has breathed new life into this iconic building and is a welcome addition to this commuter town.
Set on Southdown Road, a prominent location on the southern side of the town centre, Welcombe House enjoys commanding views across the common towards Rothamsted Park.
Since the acquisition of the site in 2014, we have been sympathetically renovating the Grade II* listed building to create five prestigious apartments, alongside the construction of a collection of new two and three-bedroom houses and apartments.
A long and rich history
Welcombe House dates back to the early 17th century. An original timber-frame house, a three-storey façade was added in the early 18th century, followed by a two-storey wing in a 'cottage style' during the 19th century.
Until the mid-1800s, the house was a ladies' academy, before becoming the family home of Henry Hodgson, Director of Midland Railway.
In 1918, the house passed to new owners, the Waltons, a family renowned for their charitable work who were associated with Vauxhall Motors in Luton.
Then in 1933, the house became a convent school run by the Dominican Sisters, with the building extended in 1955 to accommodate the growing number of pupils attending. The school was reopened as St Dominic's Roman Catholic School in 1964, before moving to new, larger premises nearby.
Over the next 44 years, the building was a hotel, with changes of ownership bringing new names, from the Harpenden Moat House to Corus, and finally the Harpenden House Hotel. Its doors finally closed in April 2014 and the site was acquired by Fairview, who was keen to develop this iconic building and ensure its future for generations to come.
The journey to create a development befitting of its surroundings
From the outset, Fairview was committed to developing this iconic building and ensuring its future for generations to come.
Our team has worked tirelessly to restore and convert Welcombe House into modern and contemporary new homes befitting of their remarkable location. Many of the historical features, such as fireplaces, timber frames and decorative arches remain, providing a lasting legacy and blending seamlessly with the new contemporary high specification interiors.
In total, five exquisite two and three-bedroom apartments have been created, providing elegant and luxurious homes. Each apartment has a bespoke floor plan and has been carefully designed to make the most of its historic features and shapes. Dotted throughout are glimpses of the past, with original timber window shutters, vaulted ceilings, leadlight and sash windows and decorative arches.
Alongside Welcombe House, two collections of new homes – Welcombe Mews and Welcombe Gardens – have been built. These characterful new homes have been sympathetically designed to complement the Welcombe building and include spacious open-plan layouts and high specification kitchens and bathrooms.
Welcombe Mews is a collection of two and three-bedroom apartments, whilst 13 two and three-bedroom houses at Welcombe Gardens all come with their own private gardens.
The first phase of new homes was launched at Welcombe Gardens in June 2018, followed by the apartments at Welcombe Mews in March 2019. The apartments at Welcombe House were unveiled in October 2019.
Once complete, the Welcombe House collection will comprise 19 apartments and 13 new houses.
What is a Grade II* listed building?
A Grade II* listed building is classed as particularly important, of more than just special interest by Historic England. Just 5.8% of listed buildings are classed as Grade II* on the National Heritage List for England.
A listing marks and celebrates a building's special architectural and historic interest and ensures it is protected for future generations to come. It's important, however, that they are enjoyed and used like any other building.
Few chances come along to live in a modern home in, or alongside, a Grade II* listed building and we are extremely proud of The Welcombe House collection.