26 March 2021 ·
Turning Your Garden into a London Sanctuary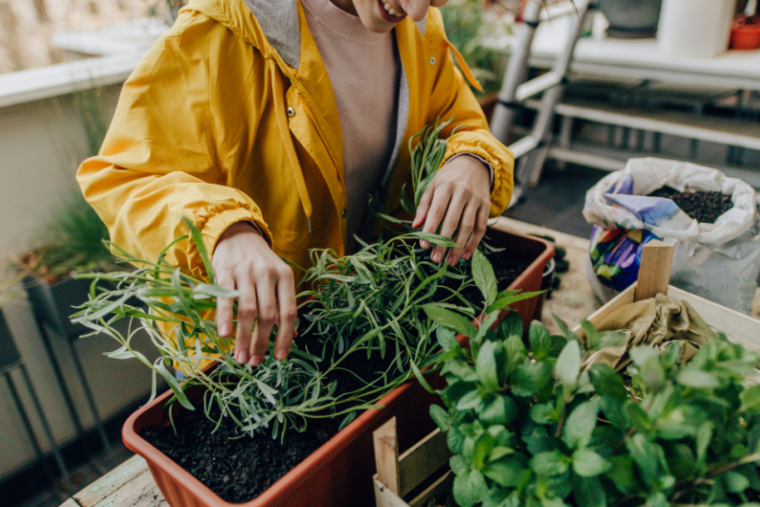 It's been a long, chilly winter, full of rainy nights and cosy crawling under covers. Spring's right around the corner, and summer after that, bringing heatwaves simmering over the Thames and the bright sun-basking over Primrose Hill. Here's to hoping that we're out and about a little more this year, but failing that, there's always your balcony!
A lot of our residents enjoy this safe and private way to step out of their home offices and bask in the sun. However, a balcony can be everything from a personal haven with Mediterranean holiday moods to an awkward square that you just don't know what to do with. If you're in the latter camp, we're here for you. We've compiled together a few tips and tricks to transform your patch into something truly special!
Decoration Designs
Don't know where to start? The leap from interior to exterior décor can be a difficult one to make, and while we're tempted to say that less is more, it can be a lot harder to spruce up a balcony than a full garden. Here's some quick fixes that can bring yours back to life!

Cast Some Shade: We're all looking forward to a bit of sun, but London can be blistering at times. To enjoy some fresh air with a little more privacy and coolness, consider using bamboo mats or tapestries on your railings!
Longer Living Room: If you can create a canopy with a stylish curtain, you can also make an outdoor reading nook with a small lounge chair to extend your living room space. Cosy!
Rest Easy: Want to kick your feet up? A Hammock is a space-conscious, simple way to give you a place to sunbathe – and once you're done, it's easy enough to take down again.
Light Up the Night: Long, sunny days mean warm summer nights. A good use of mini lanterns, fairy lights and electric candles (easier to light with a breeze!) can help your balcony glow.
Test With Tiles: Wooden tile flooring can be an inexpensive way to change the look of your balcony for whatever design goals you have in mind!
Pattern, Pillow, Perfection: Selecting just the right design for your chair pillows and cushions can really make your balcony pop, creating areas of visual interest in an otherwise tough-to-decorate zone.
Get Your Green Thumb Ready
It's easy to forget that our balconies have lots of vertical space that we aren't using, and a garden is a great way to play to that strength. If you have furniture to upcycle, a shoe organiser or an old bookshelf can make a great DIY planter.
If you're struggling with space, hooked herb garden frames are available from many hardware stores for cheap and can be hung on your railing. Remember, the frame itself isn't the star of the show - the flowers, herbs or veggies you'll be growing are! Fresh seasonings straight from your little Eden might not turn you into Ramsay or Nigella, but they'll certainly make a delicious difference.
We have plenty of hobbyist stores near our developments: Synergy has Alan's Plants Garden Centre just a quick stroll away, while Queensbury Square is close by Sunshine Garden Centre. Regency Heights also enjoys the W6 Garden Centre just a short drive from the development, with a cosy little café to boot!
When it comes to the creative side of inspiration, though, you can't go wrong with heading online. There's the obvious mind's-eye brochure of Pinterest, but we're also big fans of Daryl Cheng at @houseplantjournal and @blackgirlswithgardens on Instagram for their spectacular green thumbs. If you want something a little more manageable that can work both indoors and outdoors, home terrariums can also be a visual treat! Charles Loh @mossingarden has some excellent examples to peruse.
Enjoying your Rejuvenated Balcony
With warmer, longer days just around the corner, revitalising your balcony really is work worth doing. While all of our developments are thoughtfully placed close by green, open spaces, nothing beats the privacy and convenience of having your own personal garden sanctuary. Whether you're reading a book, tucking into the freedom of al fresco dining, or just enjoying a glass of wine at sunset, having your perfect outdoor haven will make all the difference this summer.
If you'd like to see which of our apartments benefit from this design opportunity, you can visit our developments page here. We're still here for you, with safe 1-2-1 viewings available!