28 September 2017 ·
Two showhomes now open at gated community in Sunbury-on-Thames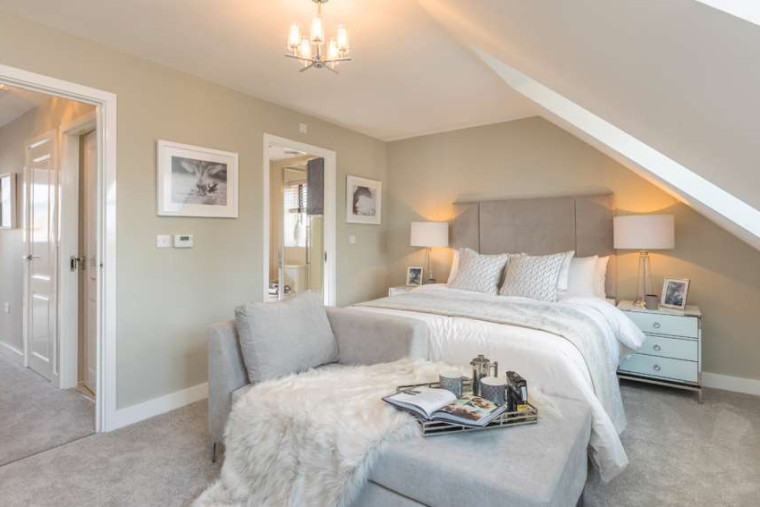 The doors have been opened to 2 new showhomes at an exclusive gated community in Sunbury-on-Thames.
Fairview New Homes has just unveiled the neighbouring 4-bedroom 3-storey showhomes at its Apollo development, off Forge Lane.
Both showhomes have been professionally decorated and styled by interior designers – the first in a luxurious, neutral style and the second with a mid-century modern feel which includes a grey, gold, mint and teal colour scheme.
Visitors to the development will be welcomed by Fairview's sales team, who are based in the kitchen/dining room of the first showhome.
Apollo is a development of 2, 3, and 4-bedroom homes being built on land formerly occupied by the Page Aerospace building, and there are just 24 homes available to buy.

Jeremy Gee, Main Board Director for Fairview, said: "We had an excellent response to the launch of our 2 new showhomes at Apollo and interest in the development has remained strong ever since.
"Apollo benefits from a superb location in the pretty Thames-side town of Sunbury, just two minutes' walk from the river and within easy reach of central London by rail.
"The homes at the development offer the very best in contemporary open plan living and we are delighted to be showcasing this through our fantastic showhomes."
Accommodation is split over 3 floors within the showhomes, which are both Iris housetype designs.
On the ground floor, there's an open plan kitchen/dining room, a study, utility room and cloakroom, while the first floor comprises a living room, 2 bedrooms and the main bathroom.
On the top floor there are 2 spacious bedrooms, both filled with natural light, plus an en-suite bathroom.
Visitors can take a look around the showhomes at Apollo between 10am and 5pm daily.
Homes at the development are currently available from £498,000.
To find out more, call 0808 278 7359.