23 April 2020 ·
Welcombe House Wins Prestigious Award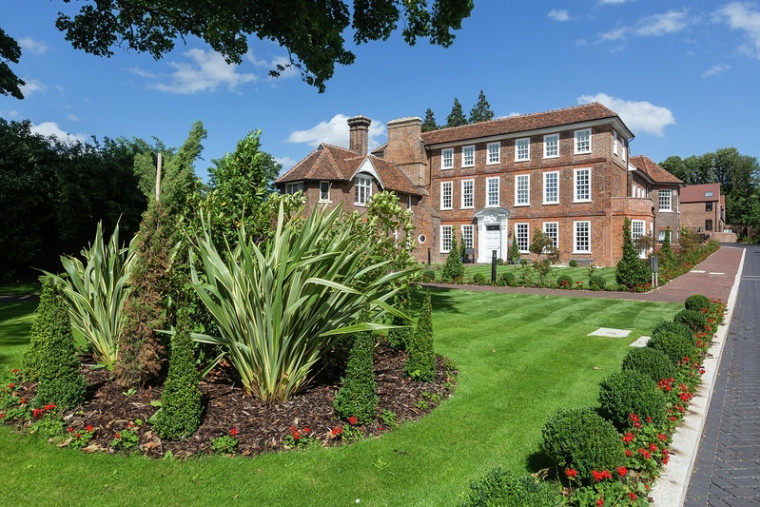 Fairview New Homes is celebrating after being recognised with an award for its work on the landmark Welcombe House in Harpenden.
The housebuilder recently received the prestigious Harpenden Society Plaque for Welcombe House, which is part of the Welcombe House collection, a selection of unique two- and three-bedroom apartments on the site of the former Harpenden House Hotel.
The plaque is the most awarded to buildings or site developments in the town that have architectural merit and that contribute a benefit to the town's residents.
When creating the new homes at the development, Fairview was committed to ensuring that the renovation of the Grade II* listed Welcombe House was sympathetic to its remarkable history, and the iconic building benefited from careful attention to detail in every aspect of the work.
Within the main building itself there are five exquisite two and three-bedroom apartments, meticulously designed to reserve its character and style whilst providing the contemporary interiors of a 21st century home. Across the collection is a selection of houses and apartments.
Commenting on the award, Sarah Price, Senior Marketing Manager at Fairview said, "We are thrilled to have been awarded the honour of the Harpenden Society Plaque. We are very proud of the Welcombe House Collection and took great care to ensure that the homes we built complement the original building and also the thriving town of Harpenden itself."
Penny Ayres, Leader of the Awards Group at the Harpenden Society said, "The Awards Committee of the Harpenden Society is delighted with its decision to award the Harpenden Society Plaque to Fairview Homes for the sympathetic conversion of Welcombe House, including the associated development. The site has the advantage of being close into central Harpenden with all its facilities and because of the size of the site, it also helps towards the local housing totals demanded by the government"
The Harpenden Society has been helping to maintain the Town's unique visual image for more than 40 years by recognising building, design & site developments of a high architectural standard that blend within the town much of which is a conservation area.
For further information please visit our website dedicated to Welcombe House here.