14 January 2020 ·
FAIRVIEW NEW HOMES ACQUIRES FORMER FORD HQ, BRENTWOOD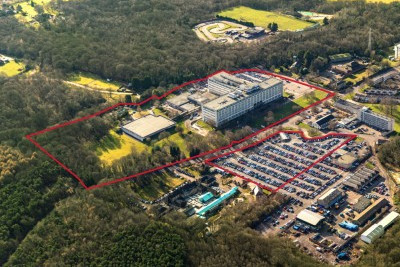 Fairview New Homes has completed the purchase of the former Ford Headquarters in Brentwood, Essex unconditionally for in excess of £35 million for a new residential development, comprising both private and affordable housing.
The 21-acre site is located within Great Warley, Brentwood and is divided in two by Eagle Way. The Ford Central Office building benefits from Permitted Development Rights for 266 units and has been sub-sold to Land Charter Homes. The remaining land within Fairview's ownership has been allocated for residential development in the Emerging Local Plan for which Fairview intends to build in excess of 150 homes.
Ford announced its plans to close its Warley Headquarters in 2018 which has been the centre of its UK operations for more than 50 years. Jasper Masters, Executive Director of CBRE who advised the vendor 'Ford Motor Company' on the sale, says: "CBRE are delighted to have completed the sale of Ford's flagship HQ site in Brentwood to Fairview New Homes. Undertaking the complex transaction was particularly impressive as it was completed against the backdrop of a difficult political landscape in early December 2019. The redevelopment of the iconic local landmark will provide quality new residential and commercial space which will help drive the exciting regeneration of the wider area."
Rhys Davies, Main Board Director for Fairview New Homes, said: "This is our second acquisition within the borough in 2019 and we are delighted with the prospect of building further new homes on this locally significant site. We will continue to work closely with Brentwood Borough Council to make sure our private and affordable homes are complementary to the local residential area".