28 July 2023 ·
Doubling the Difference: Noah's Ark Children's Hospice Matches Fairview New Homes' Generous £74,569.60 Donation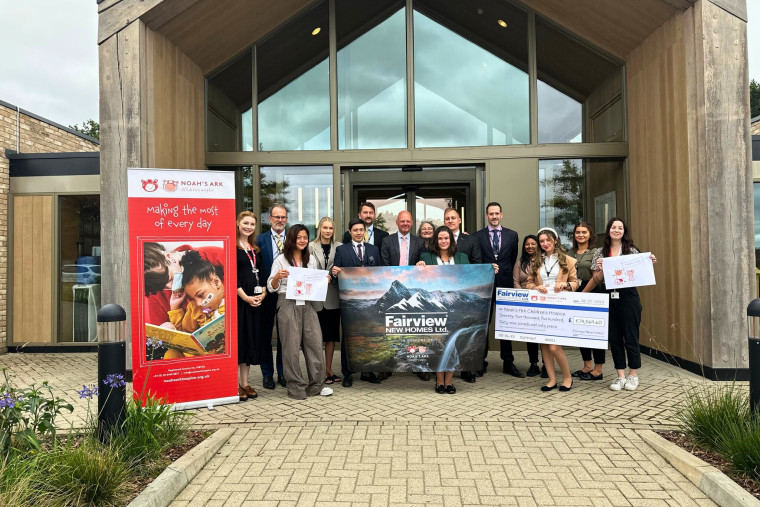 In an inspiring demonstration of community spirit and dedication to a noble cause, Fairview New Homes proudly announced a staggering donation of £74,569.60 to Noah's Ark Children's Hospice. What began as a series of heartfelt fundraising events has blossomed into an incredible show of support, underlining the power of collective effort in making a real difference.
Since 2021, the team at Fairview New Homes embarked on a mission to support Noah's Ark Children's Hospice through various charitable initiatives. Their unwavering commitment to helping children and families in need was evident through a series of successful events that showcased their passion for giving back.
Over the course of their fundraising journey, the company hosted three delightful cake sales, spreading joy through the simple pleasure of a sweet treat. The spirit of giving continued with a heartwarming Christmas raffle, capturing the festive cheer and transforming it into tangible support for Noah's Ark.
Sports enthusiasts among the Fairview New Homes team showcased their athletic prowess through two exhilarating football tournaments. Additionally, the awe-inspiring Three Peaks challenge pushed the boundaries of physical endurance, symbolising the lengths to which the team was willing to go to make a difference.
This substantial sum, comprising the £74,569.60 raised by Fairview New Homes, was generously matched by a fundraising campaign organised by Noah's Ark Children's Hospice, bringing the total sum to an incredible £149,139.20. This collaborative effort showcases the incredible impact that collective giving can have on those who need it most.
Representatives from Fairview New Homes further solidified their support when they visited Noah's Ark on Friday, July 28th. The occasion marked the ceremonial presentation of the substantial donation, a heartfelt moment that underscored the company's dedication to making a difference. During their visit, the representatives were treated to a tour of the hospice and its serene grounds, offering them a firsthand look at the environment they've contributed to and the lives they've touched.
At the heart of Fairview New Homes' philanthropic endeavours lies a deep commitment to supporting organisations that truly make a difference in people's lives. Noah's Ark Children's Hospice, the chosen charity that Fairview New Homes has wholeheartedly supported, embodies the essence of compassion, care, and hope for families facing the most challenging of circumstances.
Noah's Ark Children's Hospice is a sanctuary for babies, children, and young people battling life-threatening or life-limiting conditions, and for their families who share in their journey. Established by Michael McInerney in 2006 following the loss of a child in his own family, Noah's Ark was born out of a necessity to provide a better alternative for families facing similar situations. Disheartened by the limited options available for children, Michael took it upon himself to create a haven of care and support that would stand as a beacon of hope for countless families.
The mission of Noah's Ark is simple yet profoundly impactful: to enable the children they serve to experience life as children, not as patients, and to empower families to be caregivers, not just carers. With unwavering dedication, the organisation strives to ensure that those who face life's most daunting challenges are able to cherish every moment, surrounded by the warmth and love of their families.
Today, Noah's Ark Children's Hospice stands as one of the United Kingdom's premier children's hospices, extending its caring embrace to over 350 children and their families annually. The organisation firmly believes that every child, young person, and family navigating the complexities of serious illness deserve access to expert and compassionate palliative care right from the moment of diagnosis.
In partnership with London's NHS trusts and social care organisations, Noah's Ark has created not only a physical space but a genuine home and community for families. Through their unwavering dedication, they have fostered a team of compassionate professionals who work tirelessly to provide the best possible care, support, and comfort to those who need it most.