15 May 2023 ·
How to Build a Good Credit Score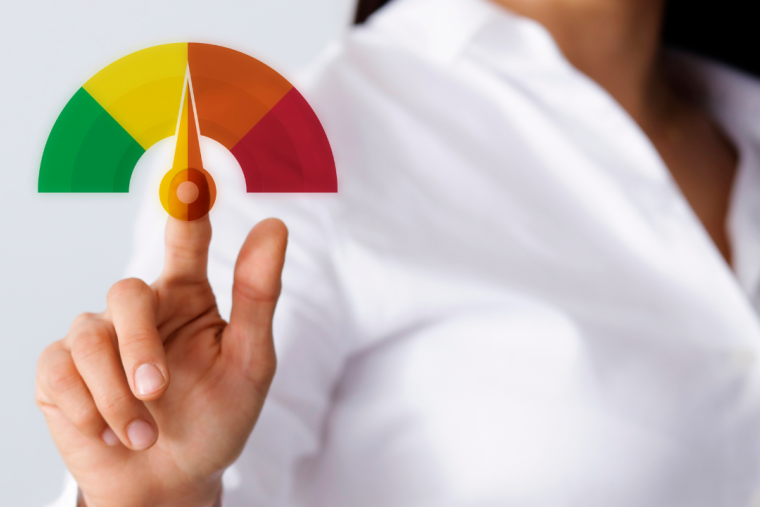 Find credit scores mind-boggling? Unsure of your credit history?
If you don't know what your credit score is, or how to build a good one to help unlock your house buying potential, then the following information will help unpick the puzzle.
What is a credit score?
Your credit score is typically a three-digit number that illustrates how reliable you are in borrowing and repaying money - the higher the number the better. A score can range from 'very poor,' to 'excellent,' which is calculated by trusted credit score experts such as Experian, Equifax, Credit Karma and Clearscore. Your score is dictated by your financial history – known as a 'credit report', and a good credit score can help you get approved for credit cards, loans and mortgages. To learn more about how mortgages work, click here.
Why is a credit score important when buying a house?
Banks and building societies must assess how suitable a prospective house buyer is before they agree to lend money to help with the purchase of a house. When the country is faced with financial struggles, like those being felt currently (spring 2023), and the government and banks battle with inflation and rising interest rates, lenders become even more restrictive in how much they are willing to lend, what for, and who to.
As well as reviewing a person's affordability to buy a house and borrow money, (how much they earn, how long they've been with their current employer, and how much money they have saved), they rely on credit scores to see how dependable a person is in borrowing money and paying it back on time.
What credit score would a bank or building society look for, before lending money for a mortgage?
It's almost impossible to mark a certain credit score that will secure a mortgage. A score that may pass with one lender, may not with another – they all have their own criteria and processes when determining if a borrower's credit score meets their requirements. The best thing a prospective buyer can so do is ensure their score is as high as possible!
When should I start looking into and building my credit score?
As soon as someone is 18 years old they have the ability to borrow money. Whether it be an agreed overdraft of a current account, a credit card, a mobile phone contract, or through a payment plan platform such as Klarna, typically used to purchase consumer goods.
The moment someone borrows money, they are creating a credit history which is being tracked. It's therefore vital that those wanting to buy a house, or borrow a large sum of money for bigger items such as car, they consider the impact their borrowing will have in the long-term and what it could do to their credit score, and therefore eligibility.
How do I access and view my credit score?
Credit score apps operated by the above expert score providers act as a great tool to give you instant access to everything you need to know about your credit score and credit report. They also provide helpful tips, tailored to your history, to help you build your credit score, with some 'quick wins' such as registering your home address, or long-term solutions such as building your credit score (more on these points below).
Apps such as ClearScore can also help to monitor your credit report for any signs of fraudulent activity or signs that your password might have been compromised or stolen, alerting you to any issues so you can quickly remedy this. Having easy and quick access to your credit score ensures that you are able to check it regularly and quickly address any fluctuations or discrepancies.
Read on for our top tips on how to build a good credit score…
Ensure any regular payments are made on time
Regular fixed payments such as contract phone bills and car loans should all be set up to your current account (bank account) and paid as Direct Debit payment. By setting them up so the payments leave your account soon after you receive your pay slip means the funds are there to pay, and can be collected on a set date when the payments are due to be collected by the lender.
Don't ignore reminders! By using payment plans like Klarna, where you can typically spread the cost of a consumer good over three monthly installments, it's vital that the payment dates aren't missed. Many payment plan platforms send email reminders when a payment is due, but if you don't check your emails often, set a diary reminder the day you purchase the item to ensure you're not late in paying.
Late payments can stay on your credit report for more than six years, so it's important to meet all of your regular payments on time.
Prove where you live
Are you on the local electoral roll? Having proof of your current address on your credit report is very important, so when you move home make sure to register to vote at your new address. Your local council send voting data to credit reference agencies on a monthly basis, but it can still take several weeks, if not months, for your registration to the electoral roll to appear on your credit report to improve your score, so the sooner you do it, the better.
Don't max out your credit cards
Credit scorers factor in how much of your agreed loan amount you're borrowing against each month. To improve or maintain a good score, use no more than 25% of the total amount available to you. E.g. if your credit card lender has approved you a £4,000 loan, make sure you've not used more than £1,000 of it. It's also vital that you make at least the minimum monthly payment required each month. This figure will be shown in your monthly credit card statement. The best way to ensure you're paying off any credit loan in manageable chunks is to set up a Direct Debit, so that either the minimum, total, or set monthly repayment is taken automatically from your current account.
By having a strong credit score, you may be eligible for schemes that make house buying even more achievable, such as Deposit Unlock. Read more above this scheme here.