29 October 2018 ·
New beginnings for first time buyers Seniz and Sam at Endeavour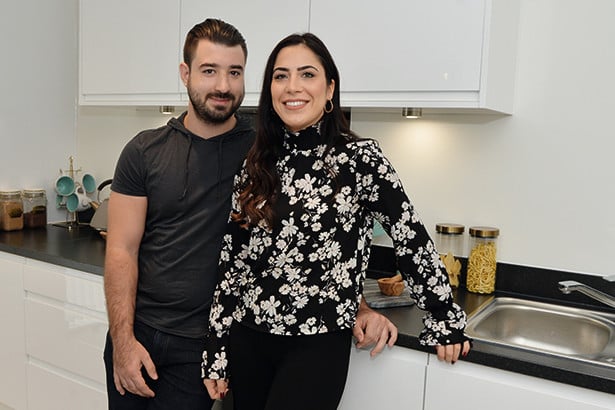 Having rented for more than 5 years, Seniz Gokdemir and Sam Jaffe longed to escape the rental trap and purchase a place they could call their own.
Seniz and Sam, both 30, were renting a 1-bedroom apartment in Enfield Chase when they decided it was the right time to upsize and enjoy more living space.
And thanks to the London Help to Buy scheme, the couple took their first step onto the property ladder by purchasing a 3-bedroom duplex apartment at Endeavour, Fairview New Homes' development in Highams Park.
The pair were looking for a spacious apartment with an outdoor terraced area, and after researching London Help to Buy, realised that the best option would be to buy a new build.
As the couple both work in central London – Seniz as an interior designer and Sam as a recruitment manager – an easy commute to the city was essential.
With Highams Park Overground Station, which offers direct services to Liverpool Street, just a 5-minute walk from the development, Endeavour certainly ticked that particular box.
The pair were so impressed with Endeavour that they decided to purchase their first home off-plan.
Seniz said: "We had been saving for several years but once we discovered how London Help to Buy could help us shrink our deposit, we thought it would be the best way on to the property ladder and we turned our attention to new builds.
"When we first visited Endeavour, we were really impressed by how big the apartments were. After sitting down with the sales team, we discovered that we could afford more than we originally thought and decided to purchase off-plan.
"We're delighted with how well our home has turned out and with all the space we have now. We even have a small garden to enjoy in the summer months, which we wouldn't have thought was possible when we first began looking for an apartment to purchase."
The London Help to Buy scheme enables buyers in the capital to purchase a home with a 5% deposit and a 55% mortgage. The remaining 40% is provided as an equity loan, which remains interest free for the first five years.
Since moving in, Seniz and Sam have been enjoying the local village environment for which Highams Park has become renowned.
Seniz said: "There's a real community feel in Highams Park, and some lovely shops and restaurants. We really like that the area is home to many independent retailers and businesses, which we're looking forward to checking out."