09 November 2021 ·
NewHayes, The Most Affordable Property Development In West London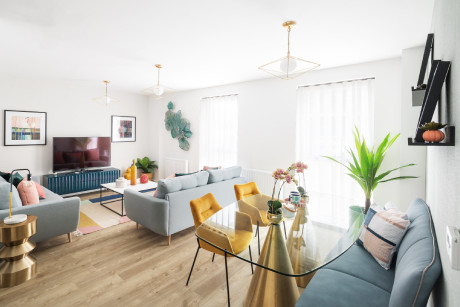 Fairview New Homes, has launched its latest new home development, NewHayes, in the London Borough of Hillingdon. The sought-after stylish apartments are ready to move in from Summer 2021 and priced from £275,000, making them the most affordable option for first time buyers seeking a well-connected West London home.
Celebrating its 60th anniversary of building homes in London, Fairview has many years behind it delivering good quality homes that are genuinely affordable for Londoners. Over the decades Fairview has perfected the ability to discover regeneration hotspots that give first-time buyers a brilliant investment before they become unobtainable.
Rebecca Thomson, Senior Sales Manager of the NewHayes development explains: "As Fairview benefits from its own in-house construction team we're able to manage costs and avoid delays better than any other London developer, meaning you're gaining the same quality home at much more realistic price tag. At approximately £454 per sqft, NewHayes homes cost between £8,000 and £10,000 less compared with other new developments in the local area. You will not find a better return on investment in this area."
Located on Pump Lane in Hayes, the development comprises 331 studio, one, two and three-bed apartments and duplexes; 232 are available for private purchase, all benefiting from the London Help to Buy scheme.
Each apartment comes with a private balcony or terrace, as well as access to three communal areas including a courtyard garden, which creates a great hub and space for community life and activity.
The brand-new development is just an eight-minute walk away from Hayes & Harlington Railway Station in Zone 5 and Paddington is a short 30-minute commute door-to-door. The hotly anticipated Crossrail will provide a quick connection through central London.
Craig Anderson, Director of Sales at Hunters, Hayes: "Over the last 10 years, since Crossrail was announced, we've seen just short of a 50% increase on house prices, and a 22% increase over the last five years, stated by land registry. Despite the historic rises, Hayes remains an affordable area in west London.
The market overall in Hayes is buoyant, however stock currently doesn't match demand, so we anticipate prices will continue to rise over the next few years, especially as young professionals seek out areas with fantastic transport links. Based on historic increases, I expect prices to rise between 2% - 4% a year. Fairview's NewHayes development is in a prime location in Hayes, and the pricing is fair and realistic."
NewHayes is experiencing great regeneration, with £4.5 million invested in the local area, creating a vibrant and well-connected community. There are plans for new offices, retail outlets and an entertainment and leisure complex, in addition to the array of high street shops, cafés and bars already situated within walking distance from the new apartments.
The growing local economy and investment in future transportation links make Hayes a desirable location for investors, first-time buyers and those working for nearby businesses such as Heathrow Airport and West London film studios.
Alex Rose, Director of New Homes at Zoopla comments: "Purchasing in an area undergoing regeneration can provide long-term benefits to buyers as often improvements to infrastructure will positively impact house prices. Good transport links also play a role as connectivity has become a top priority for home hunters over the past 18 months as the search for space continues."
There is a rich industrial history at NewHayes, which heavily influenced the architectural design and concept of the development. Until the end of the 19th century, Hayes was an agricultural area, before brick making became the first industry to appear; much of the land surrounding the Grand Union Canal, just a stone's throw from the development, was occupied by brick fields. After brick manufacturing, Hayes was home to a number of industries including carpentry and joinery.
The interior design of the apartments adds a modern twist to the concept, complimenting the history of the site, and the rustic raw materials once used and created there. Rebecca Charles, Interior Designer of Killer5 who designed the show home said: "We wanted to create a young fresh design that encapsulated the sites heritage. The use of a spring colour palette which includes pale greens, blues, pinks and yellow are punctuated with black details to give a nod to the site's industrial past. The inclusion of brass elements adds a luxurious touch to the design, from the contemporary conical pedestal of the dining table, to the frame of the feature ceiling height 'his and hers' headboard in the master bedroom. A mixture of textures such as velvets, wools and leather have been used to create a visually interesting backdrop to this welcoming environment."
The London developer celebrates the launch by hosting by-appointment viewings of its beautifully designed show apartment by interiors experts Killer5.
For more information on NewHayes - click here