01 December 2022 ·
Key milestones to buying a house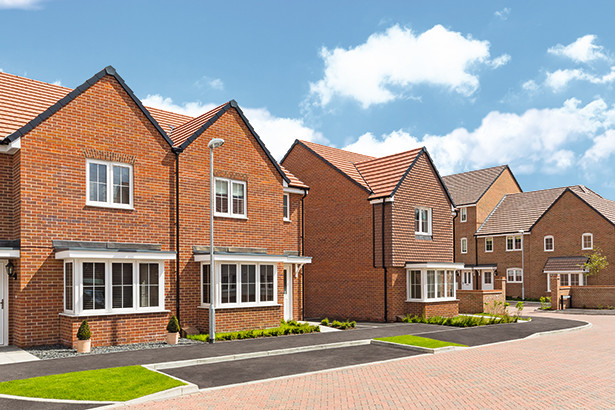 Studies have revealed that buying and moving house is one of the most stress-inducing life experiences, after bereavement and divorce. We understand that this is largely due to the uncertainty that comes with purchasing a house. Will the offer be accepted? Will someone come in and offer more? Will the legal process delay the move? How long will I feel in limbo? Many of these factors can be avoided when buying new, which is why we believe new build homes are the ideal option for first-time buyers.
If you're already thinking about starting your journey of becoming a homeowner, or simply want to know what the process involves, here's a step-by-step guide of the key milestones to be aware of and prepare for. But remember, buying a house is an amazing life experience and something that should be celebrated and enjoyed, you just have to be in the know!
Pre-buying costs
Before you get started, it's important to factor in any costs incurred with house buying which fall outside of the property price itself. Once you've ringfenced an amount, you'll have a better gauge on your remaining deposit amount. The costs you need to be aware of:
Survey: This is to uncover any issues with the home you're buying. These cost £300-£1,000 depending on the property and the depth of survey you instruct
Local searches: These are required by lenders to determine whether there are any hidden charges or restrictions to a property, e.g. located in a conservation area. These cost between £75 - £120
Solicitor: It's recommended to hire a solicitor to manage all of the technical and legal details of your home purchase. Services usually cost between £800 - £1,500, depending on the requirements.
Moving costs: If you need help from a removals company to move into your new home, depending on how much furniture you have and how far you're travelling, costs can range from £450 - £1,400
Stamp Duty: This amount is dependent on the value of your property. For example, if you're a first-time buyer and the property costs £500,000, you'd only pay 5% on the final £50,000 as the first £425,000 is tax free for first-time buyers until 2025. Meaning in total you'd pay £3,750 in Stamp Duty. You can see the full breakdown on the Government website.
Total estimated costs: £1,625 – £4,020 + Stamp Duty tax
Getting a mortgage in principle
After you've reviewed your finances and estimated the costs of the entire process, including legal fees and moving costs, the first step of buying is getting a mortgage in principle.
A mortgage in principle isn't a guarantee of a mortgage, but a clear indication of how much your chosen lender could loan you in your current circumstance. This is key to figuring out exactly what you can afford from the outset and will help you avoid disappointment further down the line when you realise you can't borrow quite as much as you thought.
To start the process, we recommend using an affordability calculator to figure out how you can afford to borrow. Barclays have a good one – click here to use it.
Next, you need to figure out what kind of mortgage is best for you. There are several different options but they all fundamentally sit in two categories – fixed rate or variable rate. You can check out our article on mortgage types to understand the difference in mortgages, and which one might be best suited to you.
It's a good idea to shop around and get a few mortgage deals on the table to ensure you get the best value. Don't just look into which has the best interest rate – there are additional mortgage fees and cost that might not be clear on the surface which can end up making a big difference.
You may also wish to use a mortgage advisor to help you figure out what's best for you and to guide you through the process. Ask your bank or building society about this – they're often fee free.
Once you've had the offer on a house accepted, you can complete the full mortgage application. But more on that further down.
Finding the right home
Once you have your mortgage in principle, it's time for the fun part… finding your dream home! There are tons of listing sites out there - the most popular are Rightmove and Zoopla. Though it's worth researching local estate agents in any areas you are particularly interested in and reach out to them; they'll be 'in the know' and can advise on areas within your budget and can alert you of any homes new to the market before they are listed online.
Buying a home is a big decision, simply due to the cost incurred and the financial responsibility that comes with it, so it's important that you put a lot of care and thought into which one you buy. Here are some important things to consider before putting in an offer:
The price – is it affordable long term? Could your financial situation change in the short-term which could make your mortgage payments unaffordable?
The property's condition – would you have to spend money straight away to make it habitable, and if so, can you afford the work?
Transport links – while you may work from home, when you do need to get out and about, how easy is it? And will its location have a negative impact on your commute or social life?
Local amenities – Short of milk? How close are essential shops and how easy is it to get to them?
An area's crime rate – Will you feel safe living there?
Schools – If you are moving with family or plan to have children, are there suitable local schools nearby?
Investment – Is the area expecting any regeneration or building works? This can either increase or decrease the value of your property over time
Try to remain patient and don't get too disheartened in your search. This part of the process can take weeks or even months, and you may experience a few knockbacks. Arrange plenty of viewings and leave no stone unturned when you attend them.
Putting in an offer (and having it accepted)
The stars have aligned and you've found your dream home. Now it's time to put an offer in. It's important to note that an asking price, isn't the price of the home and you can put an offer in of whatever amount you like. Ask yourself – 'is it worth the value they are asking?' and 'what am I willing to pay?'. The final decision lies with the seller who chooses to accept or refuse any offer, but more often than not, they are willing to negotiate and while their motivation is to accept the best offer on the table, they will sometimes consider a buyers ability to buy and move quickly.
It's also a good idea to make an assessment of the current market and the interest in the particular house you're hoping to buy before putting in your offer. If the market is experiencing high demand, combined with low stock, and you've heard the house is already under offer, it's often a good idea to go in with an offer above asking price as there'll likely be numerous suitors. Similarly, if the market is quiet and demand is low, you may be able to get it for the asking price or even below.
However be warned, this could still backfire - all it takes is one other offer to be higher than yours for you to lose out. Remain calm and level-headed, and stick to your guns – there is no point offering more than you are willing to pay, or can afford, as it will collapse down the line.
The legal stuff
Not the most exciting part, but vitally important. Once you've had your offer accepted, there are a number of legal steps to take:
Sign an agreement with your solicitor for their service and instruct them to proceed
Ensure the home is properly surveyed to reveal any issues
Ensure local land searches are conducted
Be prepared to transfer any necessary taxes if applicable, such as Stamp Duty
Let your lender know about your offer being accepted and arrange the transfer of mortgage funds
Begin the land registry process, to list you as the new legal owner
You can do all of these things yourself, but unless you have experience in these areas it's recommended you appoint a solicitor and/or licensed conveyor to take care of all this for you. There are many solicitors out there you can use, but your best bet is to ask friends and family for a recommendation, or the estate agent you're buying through.
Exchange
You've had your new home surveyed, you've paid your Stamp Duty, the mortgage and purchase funds have been sorted and you've registered with the land registry. Time to sign on the dotted line.
Once you exchange contracts with the seller, the deal becomes legally binding and the house is yours. Upon exchange, you will also confirm your "completion" date which, put simply, is the day you collect the keys and move in. It's really important to note that if, for whatever reason, you change your mind after the point of exchange you could lose your deposit, so be 100% sure before you exchange.
Once you've exchanged you can start making plans for any necessary removal services, start purchasing any new furniture/appliances and other things like your WiFi.
Completion
Time to bring out the Champagne! The undoubted highlight of the home-buying process. You have the keys, the boxes are going through the door and your next chapter has truly begun.